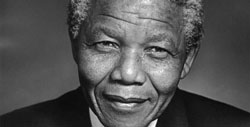 The big tree has fallen
The giant has gone
A tall tree does not last in the forest
A big tree does not remain forever in the bush
We look for him
We cannot find him
We call his name
He cannot answer us
The great man has left
Khulu (the mighty one) has departed.
Born into a royal family
Died in royalty
His vision was clear
\His mission was accomplished
His time is over
His work is done
Rolihlahla, he was named
Nelson, his teacher called him
Mandela, the world called him
Born in South Africa, a Xhosa
But, a citizen, yes!
And a leader of the world
Mandela, a world hero
All hail him in life
All mourn him at death
He was a man of honor
An epitome of dignity
A spirited fighter for justice and equality
A man of peace
He preached peace and lived peace
From the beginning to the end,
he fought discrimination
Jailed for 27 years
Punished with hard labor
Lost his freedom; but never his fighting spirit!
He conquered Apartheid,
he demolished segregation
He was victorious
Released from prison; became President
Such is the power of resiliency
Mandela: Exemplar of forgiveness
Mandela: You are gone
We celebrate your life
As you join your ancestors…
And, we will always remember you…
Adieu Madiba
Adiós Khulu
Au revoir Tata
Kwaheri Nelson
O digba Rolihlahla
Goodbye Dalibhunga
Hamba Kakuhle Mandela
PHOTO TAKEN from forbes.com