Music Festivals of All Genres Are on the Rise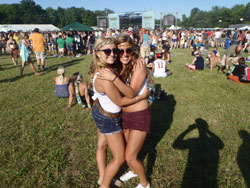 With all this talk of more snow there needs to be a reminder that there is a light at the end of the tunnel. The summer music festivals of 2014 are that light.
As the snow falls down outside your window, turn up your favorite artist, close your eyes and let yourself be taken to a hot summer weekend with your best friends. Your favorite band is on the stage, you are surrounded by thousands of strangers and you are all contributing to the best weekend of your lives.
Music festivals have been on the rise in recent years. A new one appears each summer, allowing more people to have the concert experience.
According to Equipsupply, a retail distribution company, there was a 27.3 percent increase in average attendance at music festivals from 2010 to 2012. The lineups get longer and the headliners get bigger. There is one for every genre, so no matter what music you like, there is a music festival for you.
So, which festival is right for you? We'll start off with Coachella, April 11 – 13 and April 18 – 20 in Indio, CA. Although not many students can afford to hop on a plane to CA and miss a week of school, Coachella is important to include in the list because it is one of the biggest music festivals in America.
Starting in 1991, Coachella has grown to embody high music festival status in the past 23 years. Celebrities attend, numerous brands host parties, and the band lineup is incredible. This year's lineup includes OutKast, in one of their first reunion shows, as well as Muse, Arcade Fire, Queens of the Stone Age, The Replacements, Skrillex and Beck.
Since CA is a little far and interrupts our semester, there is also Bonnaroo in Manchester, TN from June 12 – 15. A quick 15 hour car ride will get you to a weekend of intense southern heat and music. Kanye West, Skrillex, Lauryn Hill, Frank Ocean, The Avett Brothers, Jack White, Elton John, Vampire Weekend, Lionel Richie, Artic Monkeys and many more will be performing this year.
Bonnaroo is known for its camping aspect. If you survive Bonnaroo camping, you can camp at any festival.
Tommy Darlington, a junior mathematics major, said, "Bonnaroo was a crazy experience. There were so many things that made the experience so unforgettable, beyond the music there was the sleeping in tents, the port-a-potty conditions, the wide variety of different people you meet every aspect of Bonnaroo made it an unforgettable experience."
Although you may not be one for the outdoors, try not to be scared to camp at a festival. It is part of what makes the experience so incredible.
If you don't feel like making the trek down to TN but are looking for something similar, look no further than the Firefly music festival in Dover, DE from June 19 – 22.
Firefly is new to the scene, only starting in 2012. This year it is hosting huge artists like Foo Fighters, OutKast, Jack Johnson, Imagine Dragons, Pretty Lights, the Lumineers, Weezer and Artic Monkeys, just to name a few. Nestled in the beautiful woodlands of DE, it is a nice weekend getaway that isn't too far from home.
Sarah Meyer, an elementary education and English major, liked Firefly a lot when she attended. She said, "Everyone was there for the same reason. We were all there to listen to good music and be with our friends. Everyone got along and everyone wanted to be friends. It was just overall a peaceful, fun atmosphere."
If indie rock isn't really your speed do not fret, there are plenty of other music festivals out there. The Electric Daisy Carnival, also known as EDC, May 24 and 25 in NYC, is a popular spot for people of the tri-state area. Part of the appeal of EDC is not only the great dance music it offers but the venue as a whole.
There are rides, art exhibitions and costumes that all make EDC magical. It is almost more than a festival and part of a culture. Although no lineup has been announced for this year, last year's included Tiesto, Avicii, Calvin Harris, Afrojack, Boy's Noize and others. Watch the 2014 trailer for EDC to get an idea of how the event plays out.
If you're into something a little more laid back you might want to try the Taste of Country music festival in Hunter Mountain, NY. One of the only country music festivals in the northeast, Taste of Country brings all the down home southern music up north.
Headlining the festival is Brad Paisley, Brantley Gilbert, Dierks Bentley, Randy Houser, Craig Morgan, Thomas Rhett and the legendary Hank Williams Jr. If you have ever attended a country concert tailgate you will not want to miss this three day tailgate combined with camping.
Rachel Fox, a junior English and education major, will be making this her first festival experience. She said, "I am excited for the festival because I will get to see a ton of my favorite country artists in the span of three days. Plus, we will be camping and I will be with my best country loving girlfriends."
These are not nearly all the festivals there are to offer. Notable others are the Warped Tour, Bamboozle, Beale Street Music Festival, Lollapalooza, TomorrowLand, Governors Ball and others with major headliners.
There are also a wide variety of smaller festivals with less known artists but equally as amazing as the other bigger festivals.
If you love music, social gatherings, and the outdoors, music festivals are for you. Buy your tickets and plan a weekend of good music, good food and good company.
IMAGE TAKEN by Jennifer Stolte