My journey at The Outlook started with Casey Wolfe (whom you'll meet later) and I deciding to go to the Involvement Fair. I was a sophomore and she was a freshman, both of us looking to get involved. I ended up talking to Dr. Patten who introduced me to Sandra and I never looked back.
Joining The Outlook gave me a feeling of belonging from the very beginning. As a contributing and staff writer, there was always someone who was willing to chat or help with a story. As the politics editor, I had to learn journalism and leadership in a very short amount of time and finally as managing editor this year. Outlook became my home away from home and my second family. I saw three different editorial staffs come and go and never quite thought I would get to that point but now I have and there are a lot of people I need to thank.
My Family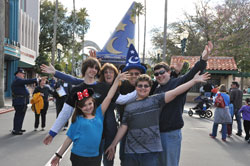 Mom and Dad: I would not be in this position without your constant love and support. I remember when I first told you I was going to start writing for the newspaper and despite never doing it before, you both told me to give it a try. As always, you both gave great advice and always had my back which I could never thank you enough for. Your best advice was to learn as much as possible while in college and I can honestly say I learned more about myself than I did out of a textbook and for that I am very grateful.
Nicholas: I am so proud of you and I am so excited that you will be joining the Monmouth University community, while it doesn't feel like it; time will fly so absolutely try everything and know that you are joining the best place to foster an education but the community will benefit from your talents greatly.
Michael: as you continue to grow up into an adult, never stop telling jokes and making people laugh. Those nights of watching random TV shows and cracking jokes are some of my best memories so thank you for helping me crack a smile when I needed it.
Adrianna: my only little sister, don't grow up too fast. You have such a contagious personality and are a joy to be around. Keep being a goofball and don't forget that you'll never date.
Nanny and Pop-pop: Thank you so much for reminding me how important family is and to not get wrapped up in what I am doing that I might miss out on some of the most beautiful things in life. Nanny, your strength is incredible and I admire it so much. I can't wait to go to AC again with you! Pop-pop, unfortunately you didn't physically see me through college but I know you were never too far away. You taught me that the best things in life are the simplest and "You can't take money to the grave" and that generosity is the foundation of a good person. I hope heaven has an Outlook newsstand for you to read this.
Professors
Professor Morano: Thank you so much for taking in this political science major and turning him into a journalist. You always made me feel right at home and when I made a mistake, took the time to show me how to improve.
Dr. Novek: Your newswriting class made me fall in love with journalism. You guided my newswriting to a new level and you were always willing to help with anything, from Outlook stresses to what I was going to do after college. I wouldn't be the journalist I am without you and I thank you for the impact you had on my college experience.
Dr. Phillips-Anderson: Your political communication class was easily my favorite class in my four years. It even inspired my thesis (thank you again for your comments and suggestions). Your willingness to always offer your knowledge in articles was always a great contribution and you opened my mind to the idea of having a future in political communication. Thank you for being a great mentor.
Dr. Patten: Thank you so much for everything. If I hadn't started talking to you that day at the Involvement Fair, I would have never talked to Sandra and never would have been in the spot I am today. Your knowledge of political science has nothing on your compassion and willingness to help others so thank you for everything.
The professors of the Political Science Department: As a department, you are all top notch. I can honestly say I was interested in every single political science class I ever took and that is due to the passion and commitment of each of you. Thank you so much for being great sources and contributing your knowledge to articles. The section wouldn't have been the same without you all.
Any professor who contributed to the politics section: Thank you so much for being available to myself and my writers. It means so much that you would take time out of your busy schedule to comment and answer questions.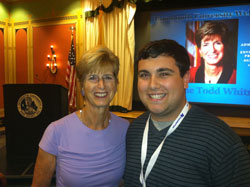 Conference and Events Services: Lu-Ann, Nicole, Ann Marie and Viv, thank you so much for having me over these past four years. I remember interviewing with Viv and Nicole for my spot and who would have thought I would have done four years with you all. I will miss you all greatly and maybe one day I will be filling out a form to have my wedding pictures taken… hopefully I won't have to call with questions.
Non-Outlook people
Other members of student-media: This year has been one for the ages. We finally all started to work together which was a great advancement to be a part of. To the new student leaders, please continue this work. It was awesome getting to meet and work with all the student leaders and develop friendships with all of you. Good luck to everyone next year!
My Foodtown friends: Five years is a long time to work in one place but I was always in good company. I basically grew up with you guys and can't wait for Blueclaws games this summer. Thanks for all the great memories and to many more!
Anna: The other half of the "Media Elite" as we have been coined. Meeting and starting to date you was easily the best part of my senior year. You have always been supportive and understood the chaos of working for a student-media. I cannot thank you enough for everything you've done for me this year and the great memories. I look forward to making many more memories together. I love you.
Outlook staffs (2011-2013)
Staff of 2011: Thank you for making me feel like part of the team right away. I miss all you guys for the jokes and lightheartedness that Mondays and Tuesdays didn't even feel like work.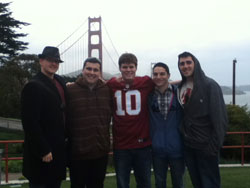 Anthony: So if I become president are you gonna buy me that beer? Most likely not. Congrats on the business column, it's a good read. I mean who else would I learn to save money from than the guy who never spends any lol
Joanna: You were always such a sweetheart in the office and I hope your travels in the south are treating you well.
Matt: You were always my go to guy with questions about InDesign and you always did it with a smile and a willingness to help. Thank you for being such a genuinely good person.
Sandra: You believed in the political science major who couldn't believe some of the stuff he wrote in his early stories. I am very grateful for the opportunity you gave me and the advice you were always willing to offer.
Gina: Yes you will always be ma'am but thank you for always being supportive and cheerful. I am so happy you were my first editor-in-chief and technically my first journalism teacher.
Staff of 2012: You all helped me grow as a leader and a journalist. With this group I turned the section into my own and started the legacy I will leave.
Nick: It was great discussing politics with you and just hanging out in the office. Hope your new job is treating you well.
Ed: Here's no one to talk sports with on Mondays! It isn't the same but expect some trash talk come football season.
Jenna: You are the most intense person I know. You never half did anything and I always respected that about you.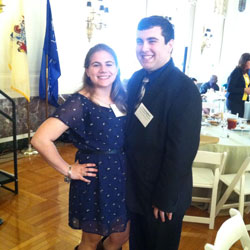 Alexis: You are without a doubt the friendliest person I met at Monmouth. I still think of you every time I see something "Boy Meets World" related.
Brett: I miss the loud introductions I used to get walking into the office. You had the biggest impact on my journalism career and evolution as a student leader. I learned so many different things about journalism from you including the value of hard work and the amount of commitment it takes to produce an award winning newspaper. I am very thankful for everything you taught me and even more thankful for your friendship. I will be handing over my desk and the wiffle ball bat this year. It's quite sad.
To both staffs: I can't begin to tell you how touched I was when I saw the entire group of you get out of the van for my 21st birthday. It was such a great experience to have with all of you there despite the horrible group picture we all took.
Outlook 2013-2014
Jackie: I am so proud of the job you did this year. No one could have done the job like you and you should be very proud of your own accomplishments. I am going to miss working together like we did this year but I know you are going to do great things in the journalism field. Good luck and I am sure to hear from you soon!
Sandie: I can't wait to start the graduate program with you. I am sure we will be sitting there thinking about Mondays and Tuesdays in The Outlook some days but either way I look forward to starting the program together.
Erin: The Outlook baby. Have fun in London! The biggest concern you'll have to worry about is wanting to come back. Be safe and come back with great stories.
Angela: You are one of the people I feel like I got closest to this year. Your passion and desire to be the best in news will get you there. I look forward to reading your health column one day and being able to say I knew her when she was just starting.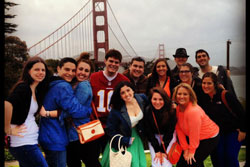 Maggie: You are one of the most genuine people I've met and one of the most dedicated to being the best. You are the only person I know who can have a double major, double minor, have a radio show, intern and be sports editor and still find time to go out and have fun.
Nicole: I held onto the bat all year! HA! I am so glad we got to the point of joking around and busting each other's chops this year. You are such a character (ironic because of your theater minor) and someone who I respect for the ability to be diverse in her skills as a journalist.
Alyssa: You really are taking the world by storm and that's awesome to see. Keep up the great work and don't stop yelling "BOATTTTTTT" when it passes at the inlet.
Taylor K: I didn't really get a chance to talk to you until the San Diego trip and you are such a nice person to talk to. Hopefully whatever road you take you are successful and enjoy the ride there.
Fabiana: I am so glad you found your way up here despite being TV/Radio. Your media skills cross all medians which is great and hopefully will serve you well in the future. You and Bri are gonna kill it in news next year and I will certainly be reading.
Jess: My partner in crime; the Mac to my Will. Working with you this year has been so much fun. It was so great having a co-editor who I could nerd out with and we really do make one hell of a team. Somehow I think we will always be friends and I'm excited to see what DC has in store for you!
Kyle: Rooming with you in San Diego was a good time. It was great having another guy around. Good luck next year and the wiffle ball bat is above my desk if you ever need to make a quick escape.
Taylor C: You are one of the funniest guys I've met at MU. Hopefully you get a chance to show the journalism world what you're made of. Good luck.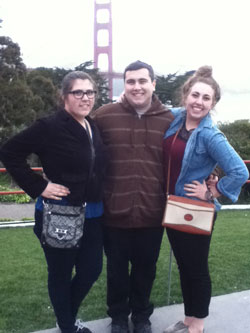 Kelly: I knew, without a doubt, writing your part of my senior good bye would be tough because you were my first friend in Outlook. I remember you commenting on my status about going to my first Rascal Flatts concert and the rest was history. I admire so many qualities about you as a person and I can't wait to see what you do out in the real world. I will leave you with this quote, "My wish, for you, is that this life becomes all that you want it to, Your dreams stay big, and your worries stay small, You never need to carry more than you can hold, And while you're out there getting where you're getting to, I hope you know somebody loves you, and wants the same things too, Yeah, this, is my wish."
Netta: You were always a source of knowledge on a variety of subjects and your work in Photoshop was always crazy good. Thanks for everything!
Matt and Evan: Thanks for keeping the website running as well as it has. You guys are a huge part of the team and were always willing to help.
Bri: You really showed you are the real deal this year. You had some of the best front page stories and never stopped trying to get better. I know you and Casey are going to be a great team next year and watching you and Fab in news is gonna be electric!
Oh who am I forgetting…. Oh right: Twouble!!: Hi Casey! I am so proud of you and the work you put in this year. You deserve to be Editor-in-Chief because of the commitment you have shown to becoming a better journalist and leader. I remember walking around that involvement fair together and then you joining Outlook shortly after I did and eventually being promoted to Features. You are going to take the newspaper to the next level and beyond. Good luck! And if you need anything I am here for you and The Outlook.
Sandy: Mornin y'all! That was the best greeting I could ever ask for. Thanks for always being there and keeping this circus in one piece. Keep an eye on the kiddies next year!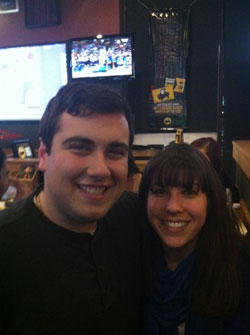 Evelyn: Hi Momma! We miss you in Plangere terribly. You always had the best way of putting things and were always 100 percent honest and that skill isn't found very often. Keep on whistling.
Brandon and Victoria: You have no idea how hard it will be for me to give up my pages but I can't think of a better combination to take it over from Jess and I. Keep up the great quality that Jess and I started but also give it your own touch and legacy. These pages have given me a place at MU and a name for a good reason and I hope it provides you two the same. You guys ever need anything you know how to find me.
To my politics writers: You guys are an incredible group of people full of knowledge. Over the course of time, I was lucky enough to call some of you friends. I appreciate the amount of work you put in for the section and I know that wherever your career path takes you, it's a very clear road for you all.
Trying to condense three years' worth of memories into one broad sheet is a lot tougher than I thought. I keep looking at the group pictures and all the friends I made through Outlook and it makes me sad this chapter of my education is ending but I am looking forward to the next chapter of my life. "Welcome to wherever you are. This is your life, you made it this far
"Welcome, you gotta believe That right here right now, you're exactly where you're supposed to be Welcome, to wherever you are." The Outlook was exactly where I needed to be.