The University experienced a dramatic amount of snowfall this semester, leading to the quick depletion of the snow removal budget and numerous school closures.
Patricia Swannack, Vice President of Administrative Services, said this year's total snowfall has been much higher than it has been in recent years. Because of the increased amount of snow, Facilities Management has exceeded their snow removal budget line and has had to transfer monies from other budget lines to compensate. According to Swannack, the snow removal budget line is normally between $35,000 to $40,000, but so far this semester, about $130,000 was spent.
University groundskeepers and other employees have the primary responsibility of plowing and salting the parking lots, Swannack said. However, sometimes the task becomes too great for the University grounds crew.
According to a representative from J.F. Kiely, a construction company in Long Branch, NJ, the University has had a contract with them for two years to assist in snow removal exclusively. The company assists the University groundskeepers when they are overwhelmed with snow removal. The contract with the University states that J.F. Kiely must immediately respond to snow removal (when needed) while on call.
J.F. Kiely crew members provide their own equipment to assist with snow removal. The University pays the construction company based on the number of workers needed and the type of equipment they use, said Swannack.
"The contract includes no precise cost; it depends on how many people are assigned to plow and for how long. For example, if we receive two inches of snow the cost is minimal. If we receive 20 inches of snow, the cost can easily run up to $10,000."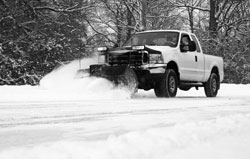 "If we receive seven to eight inches of snow or more, or if the snow is very heavy, our equipment is limited and not capable of plowing all the parking lots within a short period of time," said Swannack. "Snow cannot always simply be plowed into a mound because it reduces the number of parking spaces we have. Sometimes, it has to be physically moved by putting the snow into a truck bed and dumping it on an athletic field."
Although the University prides itself on its grounds keeping, when it comes to snow removal, safety is a top priority. "We do our best to create a safe environment where people can travel throughout the campus. Snow and ice removal is never perfect, but our employees work tirelessly to do the best they can to make the campus as safe as possible," said Swannack.
Thomas Pearson, Provost and Vice President for Academic Affairs, said that there are many snow-related factors that contribute to the closing of the University. If there are four or more inches of snow on the ground, low temperatures and poor road conditions, he consults Swannack, other board members and the local police to make a decision as to whether or not to open the University, with the safety of students as the primary concern.
"I believe in the value of running classes," said Pearson. "It is more enthralling to see students performing in class."
The University must adhere to federal guidelines that require classes to meet for at least 14 weeks, or 2200 minutes of instruction per semester. If the University does not comply with these regulations, the government can hold sanctions against the University, including the pulling of federal aid, according to the Provost.
Although Pearson's rule of thumb is to keep the University open, he understands there are times when it simply isn't in anyone's best interest to open the school. Thanks to advances in technology, students are able to receive instruction while away from the classroom.
"Professors have found more creative ways to instruct their classes by using things like E-Campus and Powerpoint. These advancements have offered professors great flexibilities to conduct their classes," said Pearson.
While Facilities Management has placed a great emphasis on removing snow from roadways and walkways to ensure students are able to attend classes safely, the salt used to aid snow removal has caused severe corrosion to the staircases on the residential side of campus.
Ethan Gazda, a freshman business major who has to walk by the corroded staircases and experiences this daily. "In the past the stairs used to be partially blocked off, but now they are totally blockaded, causing an inconvenience when you have to walk to and from class," he said.
Swannack said that stairs on the residential side have been corroding for years and Facilities Management has been doing its best to patch them up. Although salt is corrosive, other ice melting materials have been used and have not had the same effect that salt has.
Moving forward, Swannack said that she hopes to correct deteriorating conditions to infrastructure around campus. Facilities Management has planned for this spring, or as soon as the weather warms up and remains warm. Facilities Management is also exploring finishes that will not cause staircases and roadways to deteriorate under extreme temperature changes.
PHOTO TAKEN by Jessica Lavitol
PHOTO TAKEN from eaglelawnandsnow.com