Wow. That's all I can say at this point. I knew this day was coming but I didn't expect it to be so soon. It's crazy to me that in only a few short weeks I will be graduating from Monmouth University and leaving everything I've known for the past four years behind. I write this with a heavy feeling in my heart but I know that it is the time in my life for me to move on to bigger and better things. With that being said, there are several people I need to thank.
My family. Thank you for supporting me in everything I've ever done, especially my father. I am Daddy's little girl and I am incredibly proud of that. Thank you for being an amazing role model and for holding my family together when we felt we were going to break. Thank you for raising me to be the woman I am today. I love you. Mommy, Freddy and Stephen, thank you for always being my cheerleaders. I love you all. I can't forget my Babci. Thank you for always calling me to make sure I wore a coat when it was snowing and I didn't get on the parkway too late at night. Thank you for your 15 minute voicemails and just always making me smile. You are my angel.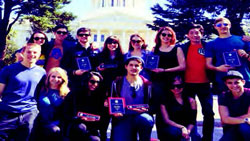 My "future in-laws." What can I even say about you all? You were all amazing enough to open your arms to me and accept me like I was one of your own. I could never thank all of you enough for that. Mom and Dad, words cannot express how grateful I am for the two of you. Thank you for not only giving me your son but thank you for just making me smile whenever I needed that. I am so honored to one day become a part of your family. Luisa, my sister, thank you for sticking up for me when I need it and checking up on me like a big sister would. I love you and your beautiful family. I am so happy to be lucky enough to watch your kids grow.
My Sebastian. My man. My heart. My future. My soulmate. I never in my life thought I would find a man that was not only handsome but sane enough to deal with me. Then I found you. I thank God every day I walked into Frank's Pizzeria five years ago. That was the day you stole my heart forever. Thank you for always standing behind me and thank you for always catching me when I fall. You are my rock and I cannot thank you enough for that. I love you.
My ladies. This is going to be long but I am going to try to make this simple and heartfelt. Thank you to my Pompton ladies. You girls have been there for me since Girl Scouts. You are so beautiful on the inside and the outside. I am so happy we have been friends for all of these years.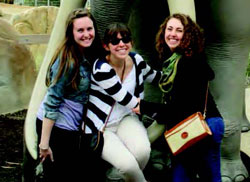 My old roomies Jaclyn, Alyssa and Mel. Living without the three of you has been strange. I am happy we all live so close to each other though, with the exception of Alyssa but distance only makes the heart grow fonder. It makes life a lot easier. Thank you for always keeping in touch and making sure we never grow apart. It truly means a lot to me.
Jimmy. You aren't one of my ladies of course but you were one of my first friends at Monmouth. Thank you for always making me laugh with our crazy talks. You are so brilliant, I know the future holds amazing things for you. And please give your mother a hug for me, I miss her.
Lisa. First off, sleeping without you next to me is going to be incredibly hard. I plan on sneaking in your room late at night over the summer so just don't be alarmed when I'm cuddled up next to you. Who else am I going to be really sarcastic with? No one gets my humor like you do. What I love about us though, is that we laugh together but we can be serious too. I am going to miss seeing you every day. Always know that I am here for you and that you are absolutely incredible in every single way.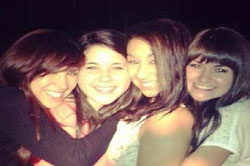 Alex. I never thought we would be as close as we are but look. I feel like I've known you all of my life. I love that you can be honest with me about absolutely anything. Everyone needs someone like you in their life. Someone to smack them when they need it and hug them a second later. Speaking of hugs, thank you for always hugging me even when you didn't want to. You are one of the strongest people I have ever met in my entire life. I admire you in so many ways. Remember, keep your head up because the jealous people around you would love to see you fall. And as long as I am around, that's not happening.
Elisabeth. I can't even write this without wanting to burst out into tears. I have never felt so confident in a friendship before. I know me and you will be friends for many, many years to come. I know me and you will be those two old ladies playing bingo together. There is no doubt in my mind. Sometimes I wonder how you put up with me for all of these years but I am so happy you did. You are not only my best friend but you are my sister. You are my better half. Thank you for always being the one person I can depend on. I love you.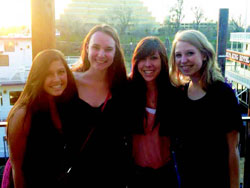 Monmouth University has been good to me in a lot of ways. One big way is the faculty.
Professor Morano. Thank you for being an awesome advisor. The Outlook is lucky to have you lead it. Good luck next year.
Professor Payne, even though I only met you last semester, you have been a mentor to me. I look up to you in a lot of ways. Thank you so much for helping me as much as you have.
Sandy. Our office mom and to me an actual mom when I needed it. I am going to miss more than anything just sitting in your office with you and talking about absolutely anything. Thank you for being there for me these past four years and especially the most recent years. Don't get too sad though because I will be back. We just need to figure out who is going to get the boot.
Evelyn. I do not have enough words to thank you for what you have done for me. You're always there when I need you and I truly cannot thank you enough for that. You'll be seeing me soon, I promise. I love you.
Past Outlook staffers. Thank you all for teaching me everything I know today. I can't believe it's been two years since the Seattle trip and since we were all in the office together. I miss you all terribly but wish you all the luck in the world in the future.
My current staff. Where do I begin?
My newbies. I am sad we only got one year together but I am happy we got to know each other.
Sandie. Whether you are teaching abroad or going to grad school next year, good luck. Please learn to take some time and relax because you do so much and it is so amazing but you really deserve a vacation.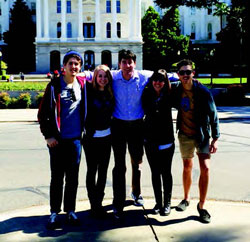 Erin. Have an amazing time in London. You are going to enjoy every single minute of it. Don't forget to come back to Casey though, she needs you.
Taylor K. I am so happy you opened up to me. Even though I am pretty sure you hated me in the beginning I am almost positive now you don't. Good luck next year and be prepared for my text messages crying about still being unemployed.
Fabiana. When I grow up, I want to be you. But really. You are one of the sweetest people I have ever met. Never, ever change. If you take news next year, I know you will make it something amazing.
Kyle and Taylor C. Two of the only guys we recruited this year. Thank you for always putting up with the crazy things the girls do and the crazy things we talk about. Good luck to both of you next year.
Jess L. I have absolute faith that you will be great as the new advertising manager. There are big shoes to fill but you are already doing amazing. You are really talented. Thank you for becoming interested in us in the first place.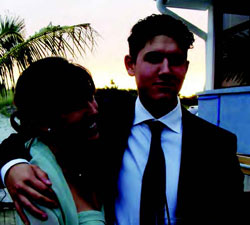 Victoria. I haven't gotten to know you all that well but I see that you really care about the newspaper which means a lot to me. Thank you for taking over politics because honestly I don't know who else would. In all seriousness, good luck next year. You will get the hang of it, trust me.
Bri. I have yet to open your letter because I am absolutely terrified. I know it is going to make me cry and I'm just not ready for that yet. I swear meeting you was like fate because you are such an incredible person. You make every single room you walk in light up with your smile and your laugh. Not being around you every Monday and Tuesday is honestly going to be terrible. I promise though that there will be many Chipotle and Izu dates in our future. You aren't getting rid of me yet.
My old-timers. How you've all taken me seriously this year I have no idea. Thank you though for looking at me as your leader and trusting me enough to lead you all.
Angela. I swear I don't know anyone in this world like you. So absolutely sweet but hardcore at the same time. You are going to get an amazing job and be on television and be so rich that you can buy all of the hummus in the world. I know it's easier said than done but stop worrying about life after graduation so much. You will be fine, I promise. But after I convince you you'll be fine, I need some help convincing myself too.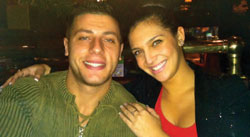 Nicole. Thank you for always helping me when I have the absolute most idiotic questions. You help me every time and never make me feel dumb for it. I love your passion for writing and hope that one day I can read even more of it.
Maggie. You are crazy but in such a beautifully innocent way. It's what makes you, you. I love how much you love everything. Never ever lose that. Your hard work will pay off one day and when it does please remember me and make me rich too. Good luck as the Co-President of PRSSA next year and being in charge of the sports section.
Jess R. Thank you for helping Chris whenever he needed it. You are a strong woman and I know you will be successful in life. You have a big heart and I admire that so much about you. Good luck next year in Washington DC. I plan to visit.
Paul. Thank you for always writing. It sounds like such a silly statement but I swear there is so much thankfulness behind that. You are so quick to help, whether it is reporting or copy editing. Congrats on graduating and I wish you and your wife all the happiness in the world.
Netta, Netta, Netta. Thank you so much for all of your help over the years you've been a part of the newspaper. Without you, the back page would be a sad, blank space. I know I can say this along with all of the other seniors that we are happy to be walking with you at graduation. Congrats on yet another master's degree.
Alyssa. You are as bouncy and vivacious as your curly locks. I see your growing determination and hope you keep it up. Even though you won't be with the newspaper for very long next year, please keep your heart in it. The Outlook needs you along with your comics and the phenomenal viewpoint. Soon enough we will be working at Cosmopolitan with our side by side glass offices.
Casey. My replacement. I never thought I could say that with a smile on my face but I am. You are prepared in every single way for this position and I have all the confidence in the world that you will be absolutely amazing at it. Good luck in your new job next year and being the EIC. I am always here if you ever need me. You won't but just in case you do.
Chris. Before this year started, I knew we were going to make an amazing team and I was proven just that. Thank you for always keeping me on track with the important stuff and making sure I never attacked anyone on Monday or Tuesday. You have been a great person to work alongside with. When you do run for President one day, you know you have my vote.
Kelly. I had to save you for last. I hate that we haven't been able to spend as much time together lately but I know it's because of life. If it was up to us, we would be with one another every second without ever getting sick of each other. I wish you could see how incredible you are. When you don't though I am here to remind you. You are like Super Woman. You always have a million things on your plate but you deal with it all flawlessly. I do get jealous when you focus on more stuff than me but I understand of course. I am so happy you became one of my closest friends. Connecticut better be prepared for a Jersey girl to say hello. I love you.
The Outlook has been my home for the past four years. I am heartbroken to say goodbye, however, I know it's in good hands.
There are a lot of people I have in my life that I am grateful for. So even though my journey at Monmouth is coming to an end, that doesn't mean I am leaving the beautiful memories and the amazing friends I made behind.
I know it's cliché, but to all the underclassmen, enjoy it while you still have it. These four years fly by.