The fourteen week academic calendar and revised framing system generated by the University Task Force has been voted into approval by full-time faculty members in order to facilitate higher learning, scheduling consistency, and scheduling flexibility. This change will be effective as of fall 2015.
The key changes in the restructured academic calendar include: a two-day fall break on the Monday and Tuesday of Columbus Day weekend; a final examination period extending no later than Dec. 22; eighty-minute long class periods; classes ending no later than 9 pm; an allotted University meeting time held from 2:45 – 4:20 pm on Wednesdays; and the dismissal of all classes the Wednesday before the Thanksgiving holiday.
Laura Moriarty, Provost and Vice President for Academic Affairs, said, "If we did not change the calendar, there would have been years when there would be no fall break and times when the University would still be in session up to Dec. 23. The fall break allows for students to engage in high impact learning experiences that extend beyond the classroom, a hallmark of the new strategic plan. [Additionally] the consistency of the calendar allows for good academic planning."
Moriarty sent out an email to the campus community on Thursday, Nov. 11 to introduce and welcome the upcoming change. She stated, "I am happy to report that last Friday the faculty approved the new calendar and time frames."
According to Moriarty, the faculty vote was conducted electronically over a two-day period. Out of the 162 full-time faculty members who submitted a vote, a final count of 137 members favored the Task Force and helped move this academic calendar forward.
The idea of crafting a new academic calendar and frame schedule was organized by former Provost Thomas Pearson and Faculty Council Chair Bob Smith. In a meeting on Oct. 10, 2012, the duo recruited a 15-member Task Force of select faculty, administration, and students.
Pearson and Smith instructed the Task Force to identify and develop one or two alternative scenarios to the current academic calendar and framing structure, list the advantages and disadvantages of each of the formulated scenarios, and identify the consensus favorite of the models.
Meeting in weekly and bi-weekly sessions between Oct. 10, 2012 to March 13, 2013, with a two-week disruption during Superstorm Sandy and a five-week hiatus during winter break, the Task Force researched the calendars and framing systems of the following universities: Bucknell, Butler, Fairfield, Fairleigh Dickinson, Rider, Rutgers, Scranton, Seton Hall, Stockton, The College of New Jersey, and Wagner.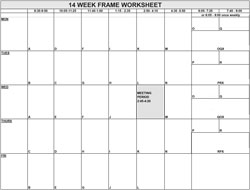 By comparing Monmouth's existing academic calendar to that of other institutions, Dr. Joseph Patten, Chair of the Political Science and Sociology Department and member of the Task Force, said that particular areas of concern were highlighted: a lack of consistency in the fall calendar from year to year, a lack of flexibility in the fall calendar caused by finals extending to Dec. 23, an atypical Thanksgiving week, the practice of ending classes at 10:05 pm, and the debate as to whether or not there was efficiency in the areas of classroom space and parking.
One main constraint when considering the new academic calendar, according to Patten, was Monmouth's geographical location and its cultural connection to the Jersey Shore. "Because we are near the Jersey shore, we have to start classes after Labor Day. That is a function of the fact that because we are near the shore, there is a two-tier arrangement with winter rental and summer rental," he said. "Summer rentals are particularly expensive. Because many of our students from this area are impacted by the economic renting arrangement, the University is sensitive to students' needs and always starts after Labor Day."
Patten noted that most Universities start before Labor Day. "This is a problem," he continued, "particularly when Labor Day falls later in September. That then pushes the semester's finals exams to Dec. 23. When that is the case, that leads to a lot of inconsistency."
Another constraint included the federal government imposing requirements on all accredited institutions of higher learning. All universities are required to hold classes that touch at least 15 distinct weeks within each semester calendar. As noted in a release distributed by the Task Force, "An important caveat here is that this does not mean universities are required to have a full fifteen-week calendar, but rather have a semester calendar that touches on 15 weeks."
The new model includes 14 different 80-minute frames held twice a week, as well as four different classes held from 6:15 – 9:10 pm once weekly. In order to accommodate for ending classes earlier, the 45 minute-long gap that is evident in the existing 3:45 – 4:30 pm system was adjusted.
Jackie Santelle, a freshman business student, said, "I never liked the gap between 3:45 – 4:30 pm because it eliminated the ability to finish the day before 5 pm, with the exception of taking night classes… Honestly, I think this is a much more efficient schedule."
University President Paul Brown said, "Having a consistent calendar results in predictability for students and faculty. Without changing the calendar, there would have been some years when the fall break would need to have been removed… For first year students in particular, an unbroken span of 11 or 12 weeks between the beginning of classes and Thanksgiving break can be challenging. Fall break allows students and families to reconnect and make any adjustments before the end of the semester."
Brown stated that many colleges and universities across the country have adopted a fall break as part of their academic calendars in recent years, and the University aimed to follow this pattern.
According to Alexandra D'Errico, former co-Chair for the Student Government Association (SGA) Academic Committee and member of the Task Force, the idea of revising the academic calendar was discussed by another Task Force approximately ten years ago, but no resolution had come of it. She said, "It's a very difficult job trying to accommodate a large population's requirements, but we were devoted to doing our best to make a reform that continued to promote Monmouth's success."
SGA President Alexandra Tuyahov feels that as long as students, faculty, and administration go into the transition with an open mind for the 2015/16 academic school year, the change will create long-term benefits essential to the overall experience at the University. "With any change, major or minor, there is always a learning period. There is always the possibility that there will be minor
hiccups in the transition as with any change," she said. "However, often change results in a better process."
"The faculty passed this calendar," Tuyahov continued, "and to me that means they are ready and eager to work with the administration and the students to make this transition as smooth as possible."
PHOTO COURTESY of Monmouth University
IMAGE COMPILED by Nancy Mezey