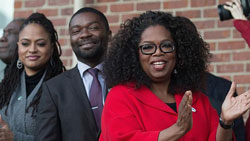 Selma was one of the best civil rights movies I've seen in a long time. It allowed the audience to get a closer look at Dr. Martin Luther King as he gathers a rally of people of all races to march from Selma to Montgomery, Alabama for the right to vote for African Americans in 1965. The film shows not only the struggles that Dr. King had as a civil rights protester and preacher, but also the dysfunctions that it brought upon his family.
The film opens with Dr. King (David Oyelowo) tying his tie in a mirror and practicing for his 1964 Nobel Peace Prize Speech. He starts to get frustrated not being able to make a perfect knot, and calls on his wife, Coretta (Carmen Ejogo), to help him. The scene changes to Dr. King being honored and awarded with the Noble Peace Prize. "I accept this honor for our lost ones whose death paves a path," he says as the camera cuts to four little African American girls innocently chatting while walking down a long spiral staircase in a church.
Suddenly debris is flying around with chunks of wood, dust and fiery red everywhere. The camera pans out and on the floor we see the four girls' lifeless bodies with debris on top of them from an explosion. This particular scene made me jump from my seat, giving me goose bumps to think that this is where the movie begins.
Where Selma picks up, segregation has just ended and African Americans want the right to vote, especially in the South where life is especially challenging. We watch Annie Lee Cooper (Oprah) try to apply to vote, only to be disrespected and denied. Momentum for the movement picks up as we see Dr. King asking President Lyndon B. Johnson to pass a bill granting all African Americans the right to vote, but Johnson is too afraid that it might start an uproar in the south. This gives King no choice but to take matters into his own hands, and he goes to Selma to start his protest.
As the film progresses, violence occurs and the rally is stopped by vicious beatings with rods, guns and barbed wire from local policemen and people that oppose the African American movement for voting. A brutal scene takes place on Edmund Pettus Bridge; as the protestors peacefully march over the bridge to get to Montgomery, men and women are harshly beaten. Two Caucasian priests also lose their lives in the chaos after just taking a stroll at night discussing their liking of Dr. King and marching with the rally.
Oyelowo plays a convincing Dr. King, and there is a striking resemblance between the two. He plays Dr. King with courage, respect and fearlessness, and succeeds in duplicating King's deep, powerful voice which gave me chills every time he made a speech on a podium. Ejogo complimented Oyelowo with her talented, brilliant performance as Coretta. We can't help but have empathy for Coretta as she watches her husband go off and risk his life for the rights of others. Watching Ejogo perform, I almost reached for the tissues as I watched her give a heartfelt speech to her husband. Oprah and Cuba Gooding Jr. also triumphed in their small but influential roles.
John Legend's "Glory" was so beautifully fitting for the end of the film that I can see why he won a Golden Globe for the masterpiece.
Dr. King said in the film, "As long as there's light headed for them, it's worth it to me." That's exactly what he did: gave us light for equality.
PHOTO TAKEN FROM NEWS.COM.AU