The Student Activities Board (SAB) hosted its annual Zombie Attack Apocalypse in Anacon Hall on Saturday, March 1 from 7 – 10 pm. The event was free and open to all zombie-lovers.
Zombie Attack Apocalypse night included a zombie apocalypse shoot out where students were divided into zombies and humans and had to compete against each other. The students played a popular event game called "Bongo Ball" that the SAB brings to campus frequently and always goes over well with students. "Bongo Ball" is a game in which aerosol guns use CO2 to shoot out sponge foam balls at one another. Once you are hit the person is out of the game.
Sophomore Dylan Vargas said "Bongo Ball" is similar to having a paintball gun shoot out, without the mess of the paint. "In this version of 'Bongo Ball,' the zombies had to grab a life size stuffed zombie doll and bring it back to a secured location from the balls. If the zombie hunter got you, you were out but if the zombies secured the doll, then they won. I am certainly going to wake up with some small bruises tomorrow," joked Vargas.
Also at the event was a zombie attack photo shoot. Here students could first get their zombie makeup done and then head over to a green screen where their photo was superimposed into a zombie themed background.
Freshman Emily Townsend said, "I really enjoyed getting my makeup done and becoming a zombie. The company that brought the supplies really transformed Anacon, and the SAB team and the workers really did a great job on my makeup. I took my picture against the green screen which the picture made my zombie makeup come to life."
The third activity at this event was a novelty stuff and fluff a zombie doll. Students were given zombie stuffed animals, such as a cat or rabbit and were told to stuff the doll and place a toy spider inside as its heart.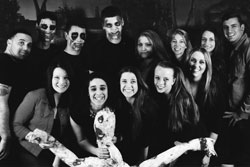 Last year, this event hosted by the SAB was called "Zombie Weekend" in which multiple zombie-themed events were held in a weekend time span. Such events included zombie makeup tutorials, zombie themed movies and a campus wide zombie man hunt. This year, the creator of this event, Major Events Chair, Lucy Russo, decided to combine her three day weekend event into one big "zombified" event.
Russo said, "I started the zombie themed event last year when 'The Walking Dead' was really popular. I didn't think there would be such a high demand last year to have it on campus again. I gladly organized another zombie event only this time instead of doing a zombie weekend, I combined a couple of zombie themed novelties and activities into one night." Russo is more than delighted to know the zombie spirit has been kept alive at the University.
Russo has created a number of recurring annual events here at the University including the Wilson Hall Haunted Tour. SAB hopes to keep Russo's events alive after she graduates this year, with the drive to continue these traditions.
SAB Advisor Megan McGowan said, "I've spent the past four years with my SAB Officer Board, watching them grow these past four years has been a real treat and an amazing experience. It will be sad to watch them grow but I know they're on to bigger milestones in their life. These four have raised involvement and run events that SAB has never dreamed or imagined could have seen the day of light on this campus. I am so unbelievably proud of them, especially Lucy for putting on this amazing event that students wanted back on campus this year again."
Students participating in the club come up with ideas for all students to enjoy. The club is always taking new members and has meetings every Wednesday at 2:30 pm on the third floor of the Student Center in the Carol Afflitto conference room. Their next event, Culture Shock: A Hypnosis Show, will take place this Saturday, March 8 starting at 7 pm in Pollak Theater.
TOP PHOTO TAKEN from Forbes.com
BOTTOM PHOTO TAKEN by Louis Garbarini