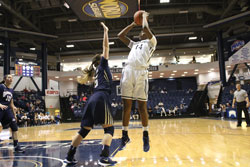 The Iona women's basketball team defeated the Hawks 64-49 Sunday night at the Multipurpose Activity Center.
Senior guards Jasmine Walker and Jasmine McCall came off the bench to lead Monmouth in scoring with nine points each. Junior forward Christina Mitchell led the team in rebounding with 10 boards while also recording three blocks and three steals.
For Iona, senior forward Joy Adams fronted the charge with 20 points, 15 rebounds and four steals, while junior guard Marina Lizarazu and sophomore guard Philecia Gilmore each netted 13 points. With the loss, the Hawks fall to 6-12 (4-5 MAAC), while the Gaels improve to 12-9 (8-2 MAAC).
"She's a great player," said McCall of Adams. "She has really good post moves that made her really effective against us."
In the first quarter, both teams struggled offensively, shooting under 30 percent from the floor and scoring a combined 18 points. And although Monmouth would take a lead with under two minutes in the half, Iona proceeded to put together a 23-4 run spanning into the beginning of the third quarter—never to trail again.
MU head coach Jenny Palmateer credited the Hawks' lack of scoring and Iona's execution for the Gaels' strong start to the second half.
"It was hard to tell with us honestly whether our offense fed off our defense or our defense fed off our offense," she said. "We weren't scoring and they had the first seven points [of the half]. But really Iona is a great team and credit goes to Iona because they out played us in every area. They executed their offensive and defensive schemes better than we did and they played a lot harder."
At the end of the third quarter, the Hawks trailed the Gaels 51-39. Despite forcing seven turnovers in the fourth quarter due to a full-court pressure defense, the Hawks were outscored for the fourth and final time, 13-10. McCall had half of the teams 10 points in the last quarter.
"I just don't think we were as focused as we have been the past few games," McCall said. "Going to the full-court press definitely made us concentrate more. If we applied that focus for the entire game, maybe the game would have turned out differently."
Looking forward, the Hawks will match up in conference again this Thursday, Jan. 28 against Quinnipiac at the TD Bank Sports Center in Connecticut. The game will bring senior guard Sarah Olson one step closer to her one-thousandth point, as she is currently sitting at 979.
"It's like the exclamation point on my basketball career," she said on approaching the milestone. "It's a rite of passage; it's a fun moment and a good memory to have."
PHOTO COURTESY of Monmouth Athletics