"But especially do we thank thee for friends."
---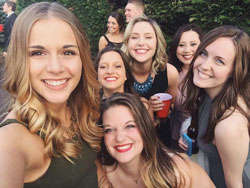 Monmouth University. You have been my home for the past four years, the best four years of my life. You have given me friendship, serenity, sisterhood, love, education, laughter, and so much happiness. From the moment I stepped on to this campus I knew I never wanted to leave. Now that time has come and it's so hard to say goodbye. Over the years I have formed memories on every corner of this beautiful campus and I can't help but stop and think about them as I walk towards the fountains, through the tunnel towards the residential side, or glance at Wilson Hall. Attending this school was my dream and to be able to say that I've reached it is so bittersweet. From eating Carlos omelets everyday freshmen and sophomore year, to shoving three people into a double room in Redwood 218, to throwing endless pregame parties in The Lawrence House, and getting stung every Thursday night, this is in fact, a goodbye.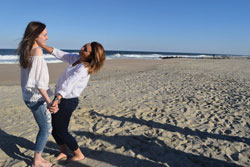 Alpha Sigma Tau
---
Joining this organization is the best decision I ever could have made. AST taught me to be dedicated, loyal, and to stand by what I believe in. Never forget that you are more than just an AST, you are Alpha Sigma Tau and it is an honor. Always be proud of your letters. Big, you have been the greatest role model, support system, and best friend to me. You're the reason I joined AST. If it weren't for you, I wouldn't have held an executive board position. You pushed me through it when I didn't think it would be possible. Little Secret, you're the reason being a part of this sorority means so much to me. Our friendship truly defines what Alpha Sigma Tau is about. You're the little sister I always wanted and never had. Being a role model and friend to you means more to me than you could ever know. I can't imagine the sorority without you. To this ehverlasting sisterhood, I promise to live joyously and valiantly.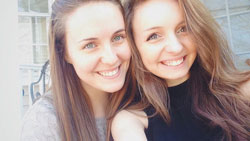 The Lawrence House //The Schneiders
---
Meg, Popo, and Jessica, Monmouth is home because of you three. Living with you for the past three years has been something I'll always remember. We've seen each other at our worst and our best but it never changes a thing. You three are the best friends I could have asked for. The memories we've made here can never be replaced.
The Outlook
---
I put my passion to paper because of all of you. Your support and encouragement gave me the confidence to publish articles I never would have dreamed of writing. Without all of you, I wouldn't have the confidence to conquer any story I could be given. You made me a true writer.
Athletics
---
Thank you for four years of laughs, free food, endless tshirts, and basketball game days. If I hadn't been given this job my freshmen year, I never would have figured out what I want to do with my life. Working for all of you completely changed my college experience for the better. This has been the best opportunity and I'm so grateful you took a chance and kept me around. Jon, you will always be the best boss I ever had. Thank you for looking out for me and taking my side no matter what.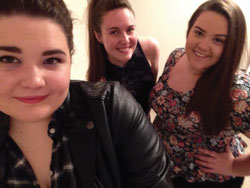 Professor Simoes
---
You have been my biggest inspiration and motivation. I'll never forget the first day of Intro to PR when you said half of you are going to drop this class and change your major. I can't believe I'm one of the ones who made it to the end. No one has pushed me to succeed as much as you have. Your honesty is the reason I'm ready to take on the public relations field. I truly wouldn't have become half the writer I am without your wisdom. All I wanted to do as your student was make you proud, and I hope I can say that's true.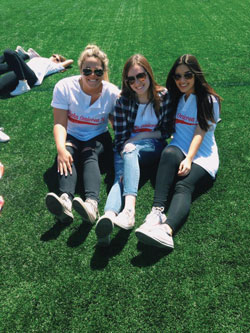 Mom, Dad, and Jamie
---
Mom, I wish I could be as strong as you are. You never doubted me and knew I would achieve my absolute best. You were the first person I wanted to talk to after receiving a good grade, the first person to call after a fight with roommates, and the first person to call just to say hi. Dad, coming home from Clearview senior year and having you hand me my acceptance letter into Monmouth was unforgettable. It's one of my proudest accomplishments and if it weren't for you telling me I could do it and that I needed to come here, I wouldn't be where I am today. You both have given me everything I asked for and more. I've earned a college degree at my number one school and studied abroad in Italy. You made my dreams a reality. Jamie, you have always been a phone call away. You encouraged me to pursue a communication degree when no one else believed it was the right choice. I hope you know it means the world to me.
"and for these sisters who are more than friends."
---