How to Stay Media Literate During the Election
---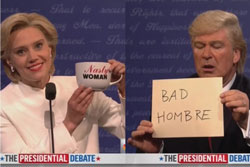 "Is there a bias in the media? Yes. Is the media biased against Donald Trump? No," stated Matthew Lawrence, a specialist professor of communication.
Trump, on the other hand, told the audience at a rally in Pennsylvania earlier this month, "This crooked media. They are worse than [Hillary Clinton] is. I'm letting you, they are so dishonest." Is the media biased? And how much of an effect does the media have on our perception of this presidential election? The key to this question lies in becoming media literate, or learning the ability to access, analyze, and evaluate media and employ critical thinking abilities towards media consumption.
The job of the press is to report the news, and to avoid bias. This gets muddled when publications endorse a candidate. As I write this article, Clinton has been endorsed by 178 newspapers, and Trump has been endorsed by 4. "In this ongoing election the media has been completely biased," stated John Maurer, a junior communication student. "Reporters are biased and are giving their opinions instead of doing their job."
Eleanor Novek, a professor of communication, pointed out that journalists have always been sharing their opinions on elections. "Some journalists try to be as objective as they can be, other news organizations take a position so they let you know right from the start that they are biased," Novek explained. "Political humor and political satire goes back to the origin of newspapers. People made fun of leaders, rulers, or anybody who was running for office… This is nothing new."
While the saturation of elections into the media is not a new concept, it seems this controversial election is everywhere you turn. Erin Lupo, a junior English education student, pointed out, "You can't open social media or turn on the TV without seeing something about the election. You also see that certain channels favor each candidate and, depending on which candidate that is, they shed more of a positive light on one over the other instead of being neutral and just stating the facts."
We all know the political affiliations of certain news channels as well as newspapers, such as Fox News and MSNBC. What we can all do to be more aware and media literate is to check out a variety of sources, recommended Novek. "[Students] need to expose themselves to a lot of different sources. Not just one network, not just one newspaper, not just one form of social media, but as many as they can…. don't sum it up in a soundbite or a tweet because it's more complicated than that."
The media does not have to control our perception on a certain candidate or issue. Lawrence, who teaches a class on media literacy, explained "The media shapes the way we see the world, and the way we see ourselves and each other. We are influenced by the media and pass judgement in the real world based on what we experience in the media, so it shapes the way in which we see gender, race and ethnicity, sexual orientation, political affiliation, it goes on down the line."
What we can do to resist being manipulated by a certain perspective is being skeptical of what we are seeing and reading. "Be skeptical and think, where is this coming from? Who's creating this? What do they have at stake or what do they have invested? Why do they want us to think or to feel those ways?" recommended Lawrence. "Sometimes it's purely for entertainment purposes, but often times its largely politicized…you can't just tune out and let something wash over you, which is why we turn on Netflix sometimes, but also realizing that our opinions and the way we see the world, the media is shaping that."
The upcoming election has relied heavily on social media and the use of 140 characters to appeal to us. While it's a lot easier to swipe through a Twitter "moment" for election coverage, we need to go deeper. There is a plethora of news sources, from the U.S. and the outside world's perspective as well. We need to make itt a point to read as much as we can, and not take a certain headline or SNL skit to heart. What does Clinton's mass email deletion actually mean? What is Trump's actual plan for illegal immigration? We need to go under the surface to determine the answers to these and hundreds of other questions, and to figure out what our opinions on the issues are.
IMAGE TAKEN from junkee.com