It's that time of year again. The leaves are changing, the air has grown crisp, and the days keep getting shorter – yes, the pumpkin spice season is upon us. Every year, when September strikes, the notorious spice makes its debut to once again provide warm, comforting flavors to the masses. Though it may seem like no human being on the planet can resist this autumnal favorite, it might actually be the media who harbors the true obsession. Do people truly love pumpkin spice, or is the media just telling us we do?
While some may choose to parade their love of pumpkin with pride, others prefer to quietly give in to the overarching trend. Toting his own warm cup of pumpkin spice coffee, senior English student, Michael Mottola said, "I don't get super hype about pumpkin spice's inevitable arrival in fall, it's just like any other seasonal event, but I always do like pumpkin spice stuff when it comes around."
Others at Monmouth have yet to hop on the pumpkin spice train. Senior communication student Emma Gepner admitted she doesn't quite understand all of the pumpkin hysteria. She said, "Personally, I'm not a fan of pumpkin spice coffee. I'm all for the traditional pumpkin pie at Thanksgiving, but other than that, I could really do without it in my food."
When it comes to pumpkin spice, we're paying for much more than flavor alone. Deanna Shoemaker, Ph.D., an associate professor of communication, said, "Whether people love or hate all things pumpkin spice, I think marketers know how tap our desires and perceived needs to sell, sell, sell. We as consumers buy into a feeling generated by cultural traditions that advertisers amplify in order to sell products. Pumpkin spice as a flavor, a color, or a smell is framed as an expression of the beauty of the fall season, the coziness of hot drinks and sweaters, a fire, so on. That association generates profits."
The media is selling the season. Pumpkin spice has become synonymous with fall thanks to an influx of pumpkin advertisements that start rolling in just before the autumn equinox each year. Advertisers emphasize all things cozy to exaggerate our desire for fall-esque feelings. This tendency to overstress trends in order to get more sales is "why we see Halloween candy in September and Christmas items the day after Thanksgiving," said Shoemaker.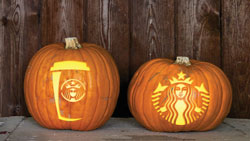 So, is the media really the reason western society loves pumpkin spice? Gepner said, "It's hard to say whether it's the consumer or the media that is dictating trends. It's almost like asking which came first, the chicken or the egg. To some extent, they need each other to thrive. Ultimately though, I think the media determines trends and manipulates consumer behavior. Before Starbucks introduced their infamous pumpkin spice latté, there wasn't as much of an obsession with infusing pumpkin into everything we consume come fall. I think the rise in popularity for pumpkin flavored food has been a result of this sudden media attention on it."
Though the media definitely pushes certain trends, pumpkin included, to no end, it cannot be held completely responsible for actually creating them all. The basis for these popular trends usually stem from somewhere other than a board of advertisers' meeting rooms. "Creative, culturally specific grassroots trends, styles, or products are typically appropriated in a capitalist economy in order to sell what was once 'cool' as products to the masses," said Shoemaker. Media creators borrow ideas from groups outside of the mainstream to turn the obscure into an obtainable style for all consumers.
Now, it's been 13 years since Starbucks first introduced their pumpkin spice latte and sparked a cultural phenomenon that permanently changed the face of fall in the years following 2003. According to the Starbucks website, Peter Dukes, the then product manager who headed the conception of the illustrious brew himself said, "the pumpkin spice latte has become more than just a beverage, it has become a harbinger of the season."
Maybe the media is to blame, and maybe society's idea of autumn is an artificial one crafted by advertisers and media conglomerates. Regardless, pumpkin spice has earned its status as the flavor of the season. Its popularity has proved that as long as there is someone out there with a craving for fall and money to spend, there will be lattesand pumpkin-ed products infiltrating every store for many Septembers to come.
IMAGINE TAKEN from thefiscaltimes.com
IMAGE TAKEN from images.britcdn.com