Hawks Gather At Final Homecoming on Kessler Field
---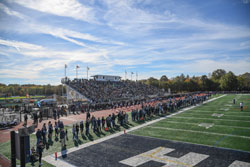 Monmouth University hosted its annual homecoming weekend from Oct. 28-30 during which students partook in a series of fun-filled activities. Current and former staff, alumni, and trustees were invited to enjoy the event.
The game was the final one at Kessler field, as demolition of the aging field began on Nov. 1, with hopes to complete the new field by the 2017 season. Kessler Field was built in 1993 and opened for the Hawks' inaugural season. On Sept. 25, 1993, the first-ever game was played at Kessler Field as the Hawks hosted Sacred Heart University. Since then, the field as been home to every Hawks home game.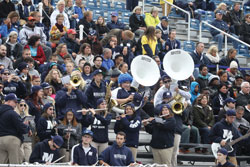 On Friday, the traditional pep rally took place. In order to conjure excitement for the football game, students engaged in chants and mingled with friends at the OceanFirst Bank Center.
"The pep rally is designed to foster school spirit and get everyone excited for the game and remainder of the football season," said Joshua Manning, senior business student. Manning added that the excitement caused by the pep rally always leads to a fun filled football game.
"The pep rally gets Monmouth students together to hype up the excitement of homecoming weekend. It serves as somewhat of an opening ceremony to the festivities that are to come," said Emma Stowell, a junior chemistry student. "My favorite part about homecoming weekend is how it really brings both Monmouth students and alumni together for a plethora of activities. The school spirit is rampant on this particular weekend, making it a great time to be a Hawk."
On Saturday morning, students attended a tailgate prior to the game, in which people socialized with friends over lunch. "I came back for greek life and to see how my fraternity is doing," said Joe Santani, who graduated in January 2016. "I was very active when I was an undergrad so it's nice to to come back and see how everything is going and help them out with any problem they might have–and it's just a fun time."
The original concept of homecoming was for universities to "welcome home" alumni and former staff. This year, the homecoming theme was "Mighty Monmouth", chosen by Student Government Association (SGA) Homecoming chair Victoria Petruzzella. "I wanted something that would fit the whole Halloween weekend as well as something a little different from the past couple of years," she said. "I wanted something that the University students and the alumni would enjoy and something that would be memorable for them."
Janistie Medinia, a junior social work student, said her favorite part was seeing all the different organizations come together at the tailgate. "This school can be very cliquey and I've never been to homecoming before this year so I had no idea people intermingle the way they do," she said.
After the tailgate, fans packed Kessler Field for a Big South division game against Kennesaw State University. In total, 3,869 people were in attendance.
Manning added that his favorite part of homecoming weekend is always the football game, as the massive crowd creates an exciting environment that even excites the players to perform their best. He noted that he is looking forward to what the new football stadium has to offer for the next season.
The Hawks were defeated by Kennesaw State 49-17, dropping their record to 4-5, and 0-4 in the Big South.
"It was awesome but disappointing because we didn't get the win. They came out and supported us and we wanted to win for them and for us to not get that is disappointing. We put in a lot of hard work for this game especially because we wanted the seniors to go out on top and we weren't able to do that, but the fans did a good job out there coming out and showing love," junior safety Mike Basile said.
Head Coach Kevin Callahan said the crowd definitely contributed to the overall positive environment.
"It was a great crowd. I was very happy with the turnout. The end zone bleachers were a very positive thing – it gave people a place to sit where there usually isn't anywhere for people to sit. They were very into the game and it was a great atmosphere out there for Homecoming," Callahan said.
During the game, the homecoming king and queen were announced. These individuals are typically designated to represent the student body of the university.
"It's pretty awesome. To be out here and see all these faces in the crowd even though it's a little sunny, and I can't see as much. But I can feel their spirits out here and all the love and support of this Monmouth community," said Homecoming King Matthew Sheehan.
"I love Monmouth so it's an honor and I'm glad I can celebrate my last year at Monmouth like this," said Homecoming Queen Madelyn Arecchi.
Homecoming weekend is one of MU's most valued traditions, as alumni continue to revisit their alma mater year after year.
PHOTO COURTESY of Mark Brown/B51 Photography
IMAGE TAKEN from canto.monmouth.edu
---
---
Editor's Note:
In the 11/2 issue of The Outlook John Sorce was attributed for the front page articles "'Mighty' MU Says Goodbye to Kessler Field at Homecoming 16'" and "MUPD Apprehends Alleged Gunman: No One Hurt" but his last name was spelt wrong, as Scorce.