Navient, America's largest student loan company, is currently embroiled in a federal lawsuit that was filed by the Consumer Financial Protection Bureau (CFPB) on Jan. 18. According to the lawsuit Navient, misallocated payments, steered people into costly plans, supplied the wrong information, and ignored borrowers' please for help.
"For years, Navient failed consumers who counted on the company to help give them a fair chance to pay back their student loans," said CFPB Director Richard Cordray in a statement. "At every stage of repayment, Navient chose to shortcut and deceive consumers to save on operating costs. Too many borrowers paid more for their loans because Navient illegally cheated them and today's action seeks to hold them accountable."
Navient, formerly part of Sallie Mae, has more than 12 million customers and services more than $300 billion government and private student loans. In response to the lawsuit, Navient released a statement that same day denying all of the alleged claims and asserted that these actions were politically motivated.
Claire Alasio, Director of Financial Aid at the University, explainedwhat would happen if Navient lost the suit. "First, this is a civil lawsuit and not a criminal case, so Navient can't be found 'guilty.' That said, the courts may find Navient to be negligent or to have harmed student loan borrowers. If that were to take place, my guess is that the court would assign some sort of penalty to Navient and direct them to make any affected borrowers financially whole. Without knowing the outcome of the case, it is hard to predict the impact to students."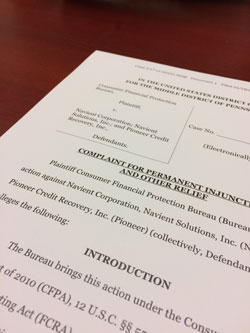 According to Patrick L. O'Halloran, an associate professor of economics, finance, and real estate, such a situation can easily occur when student loan companies act deceptively. "This can easily happen when the lender knows more than the borrower about the terms of the loan. I doubt many of us, myself included, bother to read every detail of every agreement we sign," said O'Halloran. "Consequently, it is rather easy to bury the hidden clauses in the fine detail and then use it against the customer's best interests. It may not necessarily be illegal, but I feel it is unethical at best."
"I think nowadays it's hard to trust many different things now that technology is way more advanced," said Ava McClendon, a junior art student. "I think students are going to be under more pressure and stress when it comes to trying to find the funds. It's hard to find the resources that will cover everything."
O'Halloran noted that conflicting goals between the borrowers and the loaners can often result in similar scenarios. "This is a typical principle-agent problem whereby borrowers expect the agent (loaners) to behave in the borrower's best interest, however, the lenders may have other goals such as higher interest on the loans. That is why financial markets require oversight, just like medical markets."
Other accusations claim that Navient deceived private student loan borrowers about requirements to release co-signers from their loans and harmed their credit.
Connor Orr, a junior psychology student, said this case will definitely have a negative impact on students' trust with loan companies because they do not want to be the next ones getting scammed. However, he asserts that students might be more careful now in choosing a company to take loans from.
Peter Reinhart, Director of the Kislak Real Estate Institute, said that it is imperative for borrowers to beware of the particularities of loans. "Students and parents should be diligent in repaying the loans and being aware of their rights and obligations. This government action to correct improper practices should help to level the field. But the litigation does not remove the responsibility of the students and families to be diligent in repaying and monitoring their accounts," said Reinhart.
"Besides the potential legal issues with a delinquent loan, the impact of a bad loan on a student's credit report is just as bad as a bad credit report impacts other parts of life, including the ability to get a job. Employers will look negatively upon a prospective applicant with a negative credit report," Reinhart continued.
Alasio explained how the suit could impact students at the University using Navient as their loan company. She said, "As I understand the basis for the suit mostly concerns student loan borrowers who have graduated or left school and who are in repayment on their loans. It could, however, impact students who are still in school and who have made prepayments on their loans, since one of the allegations is that Navient "…failed to correctly apply or allocate borrower payments to their accounts…"
"If students have made payments and are concerned, they should review their student loan account and their bank records to ascertain that any payments made have been properly credited to their account. Honestly, students should do this for anyaccount they are making payments on – that is just good money management,"
According to an article published by Forbes on Jan. 20, if a student feels that they have been wronged by their student loan lender or their student loan servicer, they can make their voice heard by sending a formal complaint to the U.S. Department of Education, Consumer Financial Protection Bureau, their lender, or their service.
IMAGE TAKEN from specials-images.forbesimg.com