MU Students can Help with Hurricane Relief
---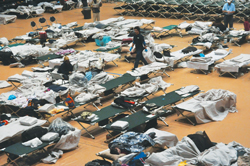 For the past month, it seems that a new hurricane brews nearly every day, and many areas are becoming entirely devastated.
With hurricanes such as Harvey, Irma, Jose, Maria and Katia threatening to destroy much of the Southeast coast and its surrounding areas, it is imperative that we try our best to aid in the relief efforts, as this is a scenario particularly close to home for many New Jersey natives.
In 2012, Hurricane Sandy, which crushed parts of New Jersey, was the deadliest and most destructive hurricane of the entire season, and five years later, many people still have not recovered from their destroyed homes and communities.
Luckily, New Jersey received an outpouring of support and aid from states across the country. Now, it is our turn to give back to states such as Texas and Florida, as well as Puerto Rico, who are grappling with the same terrors we faced not too long ago.
In Texas, several hospitals are reporting blood shortages and are seeking donations in the wake of the storm, as many people are being injured from the destruction caused by Harvey. O negative and O positive donations are particularly scarce and needed, but people of all blood types are encouraged to donate. Additionally, you can also give blood through the South Texas Blood & Tissue Center.
Connor Orr, a senior psychology student, said it is important that we help because we might one day need similar assistance. "I absolutely think we should be on the front lines helping these states combat these terrible storms," he said.
"We all saw what happened with Hurricane Sandy, so it is not out of the realm of possibility that we could get hit with a catastrophic storm of our own. If that's the case, we'll definitely need help," Orr continued.
Moreover, humanitarian relief agencies are ready to mobilize and support victims of hurricanes and natural disasters. Several local and national organizations are collecting donations for hurricane disaster relief efforts, including the United Way, Americares, Salvation Army, Save the Children, Catholic Charities USA, United Methodist Committee on Relief, SBP, Global Giving, Direct Relief, Heart to Heart, Arms of Hope and Southern Baptist Disaster Relief.
Adjunct professor of political science and sociology, Carol Cronheim, said, "The important thing with disaster relief is to keep at it. With so many hurricanes at one time the tendency is to let the first one fall through the cracks or the last to get less attention and the idea is to keep all the crisis top of mind."
"In our state folks should know about 'ReachNJ.gov' it gives great advice about preparations and recovery," Cronheim said.
As always, donations are a huge part of disaster relief efforts, and many of the damages caused by hurricanes can cripple a state's economy. Donating money can help mitigate those unfortunate repercussions.
Ava MacClendon, a senior art student, noted that we certainly have resources to help, so it is important to do what is right."I feel we should help with hurricane relief efforts because we have resources and supplies that are crucial to someone else's life," she said.
"All people should be on the same team and always help each other to promote peace. I feel that we should collect as many supplies as we can find and a trustworthy contact to send the supplies to, instead of a big name organization. I think it's more personal that way," MacClendon continued.
Of course, not everyone is able to donate money or blood, but you can certainly donate time and effort. Volunteers can sign up for trips to affected areas through organizations like Samaritan's Purse, SBP, GivePulse, and many others. Here, volunteers will enter the impacted areas and help with any matters they can. These people will be largely accommodated with necessities, so they will primarily only have to worry about lending their services and helping with the relief efforts.
Already, the Red Cross has mobilized more than 3,000 disaster workers, 100 response vehicles, and 100 trailers filled with water, ready-to-eat meals, and shelter and kitchen supplies for generous volunteers to lend a hand and help stop the destruction in its tracks.
For others that cannot help directly, simply spreading the word about the numerous ways to help is still incredibly beneficial. For example, Houston Texans defensive end J.J. Watt began a Hurricane Harvey relief effort with a goal of raising $200,000. However, after numerous celebrities donated and the word eventually spread around the globe, he raised more than $37Million.
There are many other GoFundMe pages on the web, and the money raised from each one is used entirely for hurricane relief. Through social media sites such as Facebook and Twitter, a simple post can circulate around the entire world in a matter of seconds. These donation pages have already proven to be massively beneficial, and with more backing behind them, the relief efforts can put an end to the destruction.
In a recent interview with the NFL, Watt further explained the gravitas of his relief efforts. "I'm working with organizations and I'm going to get the best organization in each category that I want to help. Things like rebuilding houses. Things like food. Things like school for the kids. Making sure we take care of all of these different areas," he said.
We were in identical positions in 2012, and the destruction caused by Hurricane Sandy is still fresh in many people's minds, especially those that have yet to recover from the damages. Thus, in a country that sticks together in times of tragedy, it is important for everyone to do what he or she can to help mitigate the suffering caused by the onslaught of hurricanes this year.
IMAGE TAKEN from monmouth.edu