U.S. News & World Report's Best Colleges ranked Monmouth University 28th in the Best Regional Universities North category for 2018, ten places higher from its original rank at 38th.
The higher ranking has been attributed to the hard work and dedication of the University over the span of nearly ten years to increase the academic quality of its freshman class. The University can consider itself one of the fastest rising institutions within the last 15 years due to its ten-place jump.
Robert D. McCaig, Vice President for Enrollment Management at Monmouth University, said, "Rankings mean a lot and U.S. News is one of the most important publications we rely on, in addition to the Princeton Review. Last year we scored a 69.4 percent six-year graduation rate. We scored higher than the U.S. News' algorithm used for predicting, which was 64 percent. We scored six points higher than they had predicted. This accounts for nearly 30 percent of the U.S News methodology."
Some of U.S. News' primary criteria for ranking include graduation and retention rates, overall academic reputation, and student selectivity.
Their ranking system places importance on statistical measures that experts in education have researched and deemed to be indicators of academic excellence.
Indicators are scored given a specific weight of importance. From the original weighted scores, each school being ranked is given a score anywhere from zero to 100.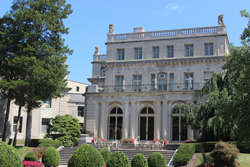 The closer a school is ranked to ten, the higher they score. The final rank is taken from the schools being ranked against each other in descending order.
U.S. News explained that they only choose the schools that score in the top 75 percentile in their categories to be published.
While McCaig does not believe that rankings are deal closers, he does believe they help to get the University on the radar.
Provost and Vice President of Academic Affairs, Laura Moriarty had similar views on the impact of ranking results.
"Rankings are a snapshot of the university, based on certain criteria of the group doing the ranking. U.S. News & World Report, for instance, is strictly quantitative. A publication like the Princeton Review, for example, brings a more qualitative review of the campus and student life," she said.
"Both of these rankings are important to us because they are the ones that resonate with students and families considering Monmouth," she continued.
This year's freshman class has over 1,000 students as of 2017, making it the largest freshman class at the University yet.
With a steady flow of applications coming in, some first year students can attest to University rankings being important to their application process.
"I wasn't sure what school to apply to, but Monmouth stood out to me because I heard people say really great things about it and I heard it was up-and-coming," said Lauren Gnoinski, a freshman undeclared student.
"I definitely think rankings matter, especially when you don't know that much about a school at first. It is very helpful to put things into perspective," she continued.
Anthony Urmey, Director of Transfer Student Services and Undeclared Services, said that even though transfer students are not factored into the data and methodology behind the rankings, they are just as impacted by these rankings as potential new students. "All students look at these types of rankings," he said.
Mackenzie Harms, a sophomore transfer and health studies student, believes that rankings matter.
For someone transferring from a school in a different state, it helped her find schools closer to her home in New Jersey that were highly regarded.
"I feel like there are always schools people know are in New Jersey, but I wanted to find one that really fit me and had a good reputation and that is how I came across Monmouth."
The rankings are also important for potential student athlete recruits, according to Dr. Marilyn McNeil, Director of Athletics.
"I think any good news our school receives is good news for our recruits," said McNeil.
"Rankings are not forever, so when they're good and even getting better it is important to spread the word that something good is happening here," she continued.
President Grey Dimenna also voiced his satisfaction with the jump in rank and commented on the importance of the event.
"The ranking is further evidence of Monmouth's upward trajectory. I am pleased that our students can see that their University is increasingly held in high regard," he said.
PHOTOS TAKEN by Nicole Riddle
---
---
Correction:
The Outlook would like to make a correction regarding the U.S. News Ranking story from 9/20/17. We said, "This year's freshman class has over 1,000 students as of 2017, making it the largest freshman class at the University yet." It was actually the number of applications that were the highest in the University's history, not the number of freshmen.