University students, faculty, and alumni took part in the University's annual Homecoming celebrations this weekend from Oct. 20-21. Events consisted of a pep rally and football game in the newly-constructed Henni Kantor Kessler and John H. Kessler Stadium.
The pep rally took place on Friday and was sponsored by the Student Government Association (SGA) with the theme "Rise of the Hawks."
The Hawks won the football game the following day against Liberty 56-39 with 364 rushing yards and a record kickoff of 95 yards.
At the game, the following students were honored as this year's Homecoming Court: Seniors Vincent Welch and Shannon Marren were King and Queen; juniors Nicholas Verzicco and Pooja Shah were Prince and Princess; sophomores Michael Welch, Faridat Busari, and Jillian Staub were presented as Duke and co-Duchesses; and freshmen Anthony Flores and Gianna Marretta were Lord and Lady.
This year marked a unique instance where there was a tie for the Duchess position, and both students that came first were honored.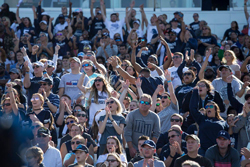 "There were a couple of things that were unique [about Homecoming] this year," said Vice President for Student Life Mary Anne Nagy. "Certainly, the stadium was one of them but we have a new President who is very involved in the life of the campus, we have new leadership in our alumni affairs area and they did a great job of bringing alums back to campus, there was lots of energy and let's face it, probably the best weather in years!" Nagy explained further about how attendees were excited by and proud of the new stadium.
"Fans were able to fully experience Monmouth football in a brand new, modern athletic facility with more seating, improved sight lines, a new state of the art digital scoreboard, and dedicated food operations which all contributed to the overall fan experience," said Dr. Vaughn Clay, Director of Off-Campus and Commuter Services.
This year's theme was also chosen carefully to relate to the new facilities and garner excitement for football season and the direction the University is headed in.
"When it came to deciding on a theme it was really hard," said Jihad Johnson, who planned this year's festivities as Homecoming Chair. "I wanted [a] theme that promoted our new additions on campus such as the new buildings, improvements of the dining hall and most importantly the stadium. I wanted the school to know that we were on a rise and that Monmouth is transforming into a better environment."
Planning the event came with specific challenges to improve on previous years. According to Nagy, safety was the main priority in managing the large crowds.
"It is a real delicate balance and I think everyone did a great job this year to ensure a positive environment," she said.
Nagy went on to reference new policies enacted by Greek Senate, as well as work done by the University's Greek organizations, in making this year much safer and smoother than past Homecoming events.
"The most significant challenge was setting aside my personal opinion and interest at times to benefit a larger group," said Johnson in regard to planning out the weekend.
"I had many ideas that sounded good to me but may not have been something that would have benefited everyone. It was a learning lesson, where I was able to learn that sometimes you have to compromise," he continued.
"This was the first year that we did not have any T-shirts left over and we ordered 800," Johnson explained.
"I was really excited about the turn out. The stands seemed to be jam packed and that's not even including everyone that participated in the tailgate…So, I want to say that attendance for this year gets an A++."
"There was a strong response from alumni, especially those that graduated Monmouth 50 years ago," said Cassondra Giarrusso, a junior psychology student who helped with alumni outreach for the event on behalf of SGA, "A lot of alumni came out to see the new stadium and talk to current students about how Monmouth has changed over the years."
Giarrusso reported that this year saw a very significant increase in alumni attendance at the Homecoming game with more than a thousand former Hawks present.
According to Giarrusso, this year also saw a 113 percent increase in alumni pre-registration, with about 100 people visiting the Student Government Association's tent the day of the game.
"It has been a pleasure to serve as Homecoming chair," said Johnson. "As I sit back now and look at how I was able to contribute to this event I am extremely pleased that I had the opportunity. Homecoming 2017 was definitely one for the books and if I could, I would do it all over again."
"Homecoming has been an important way to gather and celebrate the life of the University," Clay remarked.
"Having an annual event like Homecoming helps us stay in touch with our history and the many students, faculty members, administrators, employees and friends of the University who have meant so much to our community over the years."
PHOTOS COURTESY of Monmouth University Facebook