On Sept. 23 the Monmouth Youth Activists Group hosted a beach clean-up in Asbury Park, where they were joined by other members of the Monmouth student body.
The clean-up was attended by students of all years and majors. Each student who participated collected at least one large reusable bag full of waste.
"It was just a bunch of people who decided to show up and do something good for the community, both from the Youth Activists Group and from outside of it," said Gowri Jagadesh, a freshman health studies student. "I think it's great that we had such a passionate group of people volunteer to walk around in the blazing sun, picking up cigarette butts and little pieces of plastic."
Asbury Park's beach had many straws, cigarette butts, clothing, wrapping waste, bottle caps, and other non-degradable forms of waste that is hazardous to human health and marine life. The existence of many restaurants along the shore leads to direct source pollution of the neighboring beach.
"My sophomore year I took an environmental science class and it opened my eyes to the extreme dangers humans face due to the amount of trash we create and litter," said Erica Deweever, a senior business marketing and management student.. "I learned that plastic takes over one thousand years to degrade and when it is polluting our ocean it often circles back to our own stomachs. Marine life mistakes tiny pieces of plastic for food, and then humans catch and eat these sea creatures, thus eating their own trash."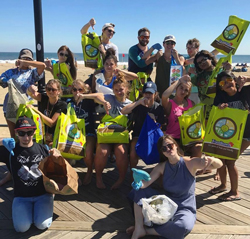 "The beach was dirtier than I expected," said Gerald Longo, an executive board member of the Sociology Club and senior psychology student. "One of the most common items were cigarette butts, a small but dangerous item that animals mistakenly consume. These are also one that of the easiest forms of waste to prevent, and to clean up."
"When we pollute our beaches we also risk the danger of stepping on glass, spreading disease and illness, and make our beautiful shore more of a dumping site and less of an oasis as it is naturally," Deweever said. "It is so disturbing to see restaurants who make money because of the beauty of the ocean they are located next are huge contributors of pollution, like all of the plastic straws they carelessly distribute and mindlessly dispose of."
"I was excited about this beach clean up because I love opportunities to be on the beach with friends already," Deweever continued. "This being a good cause makes it that much sweeter."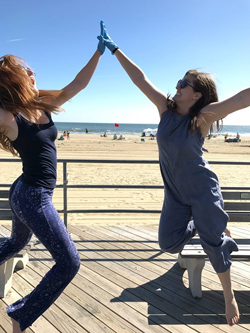 Members of the club field hockey team joined the Youth Activists Group at the clean-up.
"I went to the beach clean up to try and get more involved and it turned out to be wicked fun," said Emily Ciccolo, a freshman homeland security major. "I met a lot of great people and needed up joining the club field hockey team because of it!"
The beach clean-up garnered attention from the local community and was a symbol of Monmouth's dedication to our neighboring towns.
"Some beach goers even asked what we were doing, so it was great to spread awareness about the importance of conserving the environment and keeping beaches clean too," said Gowri.
"I love seeing students being active members of our local community," said Michael Thomas, Associate Dean of the School of Humanities and Social Sciences. "This really speaks to our universities core values, and to that of our students. After all, they come to college to learn their purpose, function, and how to succeed in and serve this world."
PHOTOS COURTESY of Carly Miller