Bruce Springsteen performed rehearsals of his upcoming Broadway engagement, titled "Springsteen on Broadway," for an invited audience at Pollak Theatre on Tuesday, Sept. 19 and Friday, Sept. 22.
The rehearsals were presented to about 200 family members and close friends, according to the Asbury Park Press; the theatre was closed down and the show was invitation-only for both shows.
The Broadway engagement is scheduled for a limited run from October to February at Broadway's Walter Kerr Theatre, and is said to be a two-hour solo performance. The production will feature his music and spoken interludes, according to Springsteen's website, and is based on his memoir "Born to Run." The show will not have a band, but Springsteen has said that he will play the guitar and piano himself.
According to a leaked set list from the University concert, posted by NJ.com, the Sept. 19 performance featured 11 songs, including some of his most iconic songs, such as "Born to Run," as well as songs such as "My Father's House," and "The Wish."
According to the leak, he also told stories about growing up in Freehold, tales about travelling cross-country, and other personal stories.
"Some of the show is spoken, some of it is sung," said Springsteen in a statement when the Broadway engagement was first announced. "It loosely follows the arc of my life and my work. All of it together is in pursuit of my constant goal to provide an entertaining evening and to communicate something of value."
The performance was billed as a workshop, according to the Asbury Park Press.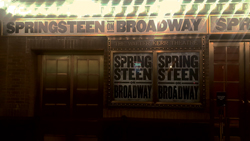 "A workshop is typically a rehearsal period, followed by an informal rehearsal room show presentation, which allows the creators of a production to develop the material," said Jennifer Ashley Tepper, a theatre producer and historian who currently serves as the Creative and Programming Director at Feinstein's/54 Below, a music venue in New York City. "It is not unusual historically for artists, whether they are concert artists or creators of plays or musicals, to bring a program out of town to a place where they are known and/or beloved."
"Historically, stars headlining a Broadway play in the early 20th century might insist a specific theater or town be their 'out of town tryout' space, since they felt safe to develop the work there," explained Tepper, who has published three history books about Broadway, and curated over 2,500 shows in her role at Feinstein's/54 Below. "It is a helpful cushion to lean on while a show is in a sensitive early stage."
"I wanted to do some shows that were as personal and as intimate as possible," said Springsteen in his statement. "I chose Broadway for this project because it has the beautiful old theaters which seemed like the right setting for what I have in mind."
Springsteen also commented that the 960-seat Walter Kerr Theatre is 'probably the smallest venue I've played in the last 40 years,' with only 'one or two exceptions.' Pollak Theatre, which holds about 700 people, is close in capacity to the Kerr.
The University is also home to the newly-formed Bruce Springsteen Archives and Center for American Music at Monmouth, and is now the official repository of Springsteen's written works, photographs, periodicals, and artifacts. The University has also been the home of the Bruce Springsteen Special Collection since 2011, and is one of nine Grammy Museum affiliates in the world.
While Eileen Chapman, Liaison for the Bruce Springsteen Archives and Center for American Music, had "nothing to say" about Springsteen's on-campus rehearsals, she did think that his prior appearances on campus were good for the University.
"I think it's really great to have a music scene on campus," Chapman said. "Especially in the 60s and 70s, Monmouth University, which was Monmouth College at the time, was a hub of music here. So many bands came through and played here. It kept students engaged musically, and I think that's always good for a campus to have."
The Springsteen Archives contain over 35,000 items, including rare photos and memorabilia, according to Chapman, and receives visitors from around the world.
Springsteen had previously performed at Monmouth back in the 1970s, according to the Asbury Park Press. He also has a strong connection to the nearby West End area – he wrote "Born to Run" in a bungalow in the area.
According to Chapman, Springsteen performed at the University nine times in the 70s and 80s with a variety of bands before he was signed, and played once after his album "Greetings From Asbury Park" was released.
Springsteen also spoke on campus in January 2017, in a moderated talk with Robert Santelli, former University professor and executive director of the Grammy Museum in Los Angeles. The event, titled "A Conversation With Bruce Springsteen", was sold out, and was filmed to be preserved within the Archives.
"[The event] gave fans an opportunity to not only see Bruce Springsteen in concert, but to hear Bruce talk about his career and his legacy, and that relates directly to the Archives here," said Chapman.
Springsteen's sold-out Broadway engagement will begin preview performances on Tuesday, Oct. 3, with an official opening night date for Oct. 12. The production will run until February 3, with Springsteen performing five shows a week.
(LEFT) PHOTO COURTESY of Danny Clinch / (RIGHT) IMAGE TAKEN from Getty Images
IMAGE COMPILED by Courtney Buell
PHOTO COURTESY of Philip Romano
---
---
Update:
It has been confirmed by Eileen Chapman, Liaison for the Bruce Springsteen Archives and Center for American Music, that Springsteen indeed rehearsed his upcoming Broadway engagement on Sept. 19 and Sept. 22 in the Pollak Theatre.