The University's Model United Nations Team (MUN) competed at Oxford University's annual MUN contest from Nov. 3 through Nov. 5, where eight Hawks joined other students from Europe, Asia, and Africa.
The three-day competition in Oxford, England consisted of thematic committees where students individually wrote position papers and negotiated policy resolutions. In order to obtain their win, the students were asked to pen a resolution, defend it against rivals, and convince their committee of 25 to 40 rival students to pass it.
Successful resolutions required extensive research, effective public speaking and critical thinking, and clear, efficient, empirical/data-based writing. Opening ceremonies took place at Christ Church College, and awards and closing ceremonies were at the historic Sheldonian Theater.
All University students wrote resolutions and performed in the competition. Three students won awards at the competition. MUN captain and senior political science student, Prachi Patel, won first place for "Best Delegate" on an International Court of Justice (ICJ) committee that debated rival claims of genocide in the former Yugoslavia and the legality of a border wall separating Israel and Palestine.
"Overall, going to Oxford was not only the best academic experience of my college career but I also learned so much about different cultures throughout the conference. As the captain, I am very proud of team and for the hard work and time they put in to preparing for the conference," Patel said.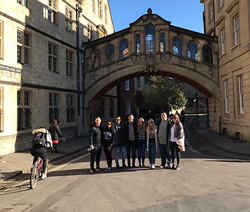 Also winning awards were senior political science student, James Hawk, in second place, and junior political science student, Justin Dritschel, in third.
Both were delegates on a World Bank committee debating post-conflict economic reconstruction in Syria and Iraq, and they quickly penned a seven-page resolution, with specific policy recommendations ranging from irrigation infrastructure to education to oil, that won unanimous approval.
"The experience as a whole was absolutely life changing considering we were fortunate enough to compete at one of the world's most prestigious institutions and against students from incredible international schools," said Hawk.
"Many students within my committee were graduate students, so being able to win an award was extremely humbling and is just a credit to our preparation and faculty advisors Dr. (Ken) Mitchell and Dr. (Kevin) Dooley. I am extremely proud of our team and all we have been able to accomplish this year, and I am looking forward to seeing what we can accomplish in the spring semester," he continued.
The team had been preparing alongside Kevin Dooley, Ph.D., an associate professor of political science, and their faculty advisors, associate professor of political science, Kevin Dooley, Ph.D. and Ken Mitchell, Ph.D., Chair of the Department of Political Science and Sociology. Mitchell spoke highly of the team and the work they put in over the course of the semester to prepare.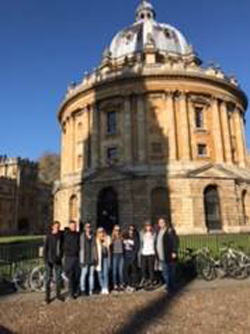 "It is very satisfying to see them practice and succeed," Mitchell said. "The challenge is how are you going to spend your time here at college, and these students have made use of their time here. College is the ultimate choice and making the most of that time is something these students have accomplished and their hard work shows."
Other members of the team were involved in their own committees. Elizabeth Carmines and Pablo Catano competed on a UN Human Rights Counsel (UNHRC) committee that debated New Technology, Human Rights and Refugees.
Emma O'Rourke and Liam Coffey were on a North Atlantic Treaty Organization (NATO) committee debating alliance policy to deter Russian aggression in Europe.
Coffey co-wrote the lone resolution to pass the committee. Erin Brown participated on a UN Development Program (UNDP) committee focused on Natural Disaster Relief Policies; she was part of a coalition that co-wrote her committee's only successful resolution.
MU's MUN Team is open to all students and currently has around 25 members. No prior experience is necessary. For more information contact student president Prachi Patel (s0994127@monmouth.edu) or Dr. Dooley (kdooley@monmouth.edu) or Dr. Mitchell (kmitchel@monmouth.edu).
PHOTOES COURTESY of MU Model UN