There is something so great about the crisp air that is formed during the shorter days and cooler nights, and what better way to take on the fall season and the holidays than by going out and doing activities?
Between the colorful trees and admirable fashion, fall is the perfect time to get some fresh air, go outside, and get involved with nature!
One of the first simple things that comes to mind when thinking of activities to do in September, October or November is what they call, "leaf peeping."
This involves going out on nature walks and admiring the different colors that the leaves turn. It is calming for when you're stressed if you want to be active, but most of all it really shows you how beautiful nature can be.
Since we have now passed October and all of the pumpkins have been picked and carved, you can go apple picking at a local orchard and get that fresh fruit ready for your Thanksgiving table.
Thanksgiving is a great time of year because the weather is cooler, it's a time to give thanks and recognize everything that the world provides for us.
Sophomore psychology student Samantha Cappitelli, said, "Every year I go apple picking with my whole family, then we go to a festival up in Pennsylvania." Family traditions are things that can be carried out for generations so something as simple as a fun road trip is worth considering.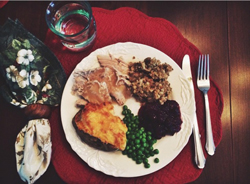 When looking at the people that surround you it is always important to recognize your fellow students and friends, Which brings up the next fall activity that is perfect for the month of November: "Friendsgiving." This is a cheerful idea that is so simple.
Sophomore business student Taylor Smith, said this is a tradition that she and her friends do every year but lately, "It has become more special to us because we are separated for months because of colleges. It is a good time to be around them and laugh because it makes you realize how much you actually appreciate the people in your life." Laughter, food and good company, what else is there to ask for this fall?
Now, just because Halloween has already happened, it does not mean that the hay rides have to stop! Many farms offer fun activities while you're out and about so take some friends or family and get on a hay or tractor ride.
If you think it is getting too chilly to do daytime activities like that, take advantage of something that you can only do up until the wintery weather. Make a bonfire, roast some marshmallows, tell scary stories, do it all! Fall is a great season to get so many things done, especially before the snow locks you inside.
With Thanksgiving coming up, that means it is the time of year for the annual Thanksgiving Day parade that takes place in New York. Do you live in or near the tristate area? Are you looking for something new and exciting to do? This is the perfect plan!
You get the up-close view of dancers, singers, floats, and balloons all while being able to enjoy the weather. Are you more interested in making a whole trip out of it? The annual Macy's balloon inflation takes place on Thanksgiving Eve at the Museum of Natural History.
This area is a great place to live especially around this time of year because of all the activities that are offered. On Nov. 29th, believe it or not, it is already time to light up the Christmas tree in Rockefeller Center. If you get anxious for the holiday season, this is a great way to kick it into gear!
Another great activity to do this Thanksgiving season is going to the local soup kitchen or community centers and giving back to the community.
Sue Starke PhD, an associate professor of English said, "Helping the community is great because it helps you gain perspective and encourages you to realize how fortunate you really are compared to others.
This is something that can not only be fun but it is so rewarding." The holidays are times to give back.
Going to soup kitchens, running clothing drives, or any form of service can be so heartwarming for not only the people you are helping, but also yourself. Not everyone has people to celebrate holidays with or extravagant meals to eat but this fall you should think about helping others in your community. There really is no better season than fall, so take advantage of it! Grab a friend or family member and get out there before the snow and arctic January temperatures get in the way.
PHOTOS TAKEN by Campbell Lee