Broadcasting Minor To Provide More Opportunity
---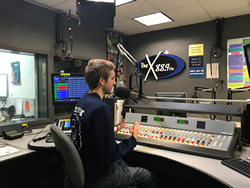 The University's sports communication minor is being restructured for the upcoming fall semester, which will allow students to focus their interests in specific areas of sports communication.
Aaron Furgason, Ph.D., Chair of the Department of Communication, said, "The change is subtle. The sports broadcasting minor replaces the current sports communication minor by narrowing down to one element of sports communication, the skills needed for the broadcasting of sporting events and talking about sports via talk radio. There is a potential that future areas of sports communication may also be available for students to minor in the future."
The rationale behind the change reads as follows on the curriculum proposal chart, the minor is intended to expose students to a variety of communication areas with respect to sports. With sports communication moving towards convergence of skills and disciplines; whether it be journalism, broadcasting, production, public relations, sports studies or a host of other professions, it is a core belief that students pursuing careers in this realm will have to be competent in a wide variety of areas that cut across communication interests."
Specialist professor of communication Matthew Harmon said, "[There are] big changes as you can see from the curriculum chart. [We] took out the prerequisites of the introduction communication classes to make this way easier for a student that might be interested in sports to add the minor."
"[A] history of sports class is now repeatable as a class as it will be changing and having a topic listed each semester instead trying to cover everything in one semester. In the past [the class] would do about two weeks on each sport. Now the class will allow a much more in depth look at two to three sports per semester," said Harmon.
An advanced sports broadcasting course and a second ESPN3 class are also available now. Some film communication courses might also be sports-specific, according to Harmon.
The 18-credit minor will no longer require any independent study or internship, according to Harmon.
"Trying to open doors to a wider audience of students on campus to take advantage of their interest in sports and look at the academic side. These changes make the minor much more user friendly," Harmon continued.
Harmon said he believes the changes will be implemented in the fall of 2018.
"Sports has been an important part of the Department of Communication's offerings, and this new change will mean more opportunity for students with interest in sports and communication," said Chad Dell, Ph.D., an associate professor of communication. "I'm excited about the change and look forward to working with students in this expanded capacity."
Matthew Deluca, a senior communication student with a sports broadcasting minor, said, "I took up the minor to broaden my knowledge of sports in terms of how they are covered, and to familiarize myself with the field of sports media. A shift towards sports broadcasting will create ample opportunities for students to get involved with that subject."
"I hope that if the minor is changed, more students will be motivated and encouraged to participate in all of the opportunities on campus of sports broadcasting, because they are out there. More than anything else, it gives students an advantage over students from other universities that might not offer a program like this," Deluca said.
Harmon said, "I'm hoping this is [a] start for students to the academic side and sports and how so much can be learned and applied. Sports is amazing teaching ground covering many different disciplines."
"I chose to be a sports communication minor because it gave me the opportunity because I was very interested in the sports related course offerings that the program offers.," said Glen DeNigris, a junior communication student. "Also, along with being a Communication Radio/TV major, this minor gives me the opportunity to further concentrate my studies towards sports, hopefully leading to a career in sports media as a result."
PHOTO TAKEN by Courtney Buell