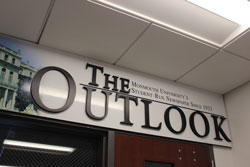 The Student-Alumni Association (SAA)
The Student-Alumni Association (SAA) serves as an important link between current Monmouth students and University alumni through a structured format of activities and events. Our goal is to build a network in which current students can reach out to alumni for career opportunities and philanthropy, as well as to continue Monmouth pride both on and off campus. The SAA holds regular meetings each week and is open to all students.
For more information, please contact Mara Manzar and Nicholas Coscarelli at mustudentalum@gmail.com
---
PRSSA
The Monmouth University chapter of the Public Relations Student Society of America (PRSSA) is hosting a fashion show this Thursday in Anacon Hall at 7:30 p.m. Tickets can be purchased at the door. All proceeds will go to Redeem-Her, a non-profit organization whose mission is to help women who were released from prison in becoming valued members of society.
---
Alpha Phi Sigma
The Alpha Phi Sigma Criminal Justice Honor Society is sponsoring the Sixth Annual Vest-A-K9 Fundraiser on April 11 from 2:45-4:00 p.m. in Anacon Hall. The Monmouth County Society for the Prevention of Cruelty to Animals (SPCA) will be collecting the following donations at the event: dog and cat food, washable blankets, towels, sheets, animal toys, leashes and collars. Stop by to see real police dogs in action and help raise money for a worthwhile cause! Contact Patricia Toomey at s0962718@monmouth.edu for more information.
---
The Spanish Club
Hola! The Spanish club promotes campus diversity and is currently looking for new members. There will be a meeting next Wednesday in the Jules L. Plangere Jr. Center in room 222 at 3:15 p.m. For more information, email the Club President, Alexandria Afanador at s0992525@monmouth.edu.