The HERO Club has recently decided that the tradition of naming one student as Monmouth University's Designated Driver of the Year does not represent the pulse of the campus community.
To reflect the prevailing and overarching theme that guided the nominations and reflects the University's value that "Monmouth Hawks Fly Together," the HERO campaign at Monmouth University acknowledges Shadow as the HERO of the year.
Shadow represents the shared commitment that the University, its students, staff, and administrators have in creating a safe and competent community.
While the HERO campaign is recognizing Shadow as the HERO of the Year for our campus, the campaign would still like to honor nominated students.
With many nominations, choosing students recognized by their peers as the best Designated Drivers around Monmouth's campus was difficult to say the least.
In order to narrow it down, the campaign broke the nominees into four categories: Resident, Commuter, Greek Life, and Athlete.
The club would like to recognize Nicholas Verzicco, a junior business administration student, to represent the Resident group.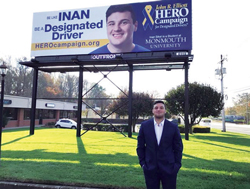 Written in one of Verzicco's nominations, it is stated, "It means a lot to me to have someone that cares about my safety as much as Nick [Verzicco] does."
In the Commuter category, the club has decided to recognize Max Sperling, a junior business administration student.
In one of Sperling's nominations, he is described as, "The most generous kid you will ever know and [is] always ready to help."
In the Greek Life category, the club has chosen to recognize Vincent Matano, a senior business administration student and a brother of Sigma Pi fraternity.
Matano is known for making sure all of his brothers get home safe after a night out and for his active engagement in his fraternity's work.
And last, but not least, the HERO Club has chosen Field Hockey player, and senior communication student, Rachel Konowal, to be honored in the Athlete category.
Konowal is described as, "Promoting positivity 24/7 and being one of the best Designated Drivers at Monmouth."
The HERO campaign would like to congratulate all of the winners!
IMAGE TAKEN from Monmouth University Instagram
IMAGE TAKEN from Sigma Pi MU Instagram