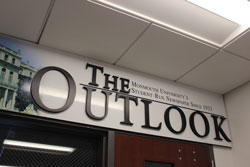 The University's transfer stu­dent experience was celebrated on campus with giveaways and informational events for Na­tional Transfer Student Week from Oct. 17-Oct. 19.
Anthony Urmey, Director of Transfer Services, was happy with the success of National Transfer Student Week.
"This awareness campaign aims to recognize the contributions transfers bring to schools across the nation," said Urmey.
This week of celebration is an annual event that also pro­motes the success of transfer students through a myriad of academic information opportu­nities.
Along with the many re­sources available in the Center for Student Success located in the lower level of the student center, the nearly 1,000 trans­fer students here at Monmouth were introduced to academic information and advisement op­portunities.
On Thursday Oct. 18, Wil­son Hall hosted "Ensuring the Success of Your Transfer Stu­dents," a panel discussion that shared the best practices on ac­ademic advisement for transfer students.
The panel featured Depart­ment Advising Coordinator of Biology Kathryn Lionetti, Ph.D., Department Advising Coordinator of Health & Physi­cal Education Julie Schaaff, Department Advising Coordi­nator of Communications Lor­na Schmidt, and Coordinator of Transfer and Undeclared Ser­vices Jennifer Shendock.
Not only did National Trans­fer Student Week aim to recognize the contributions of transfer students, but also the educators who help and support them. Along with serving as a panelist, Lionetti received the first annual Jean Judge Transfer Champion award.
The celebration for transfer student experience didn't stop there. An interest table for Tau Sigma, the honor society that recognizes the academic excel­lence of transfer students, was held on Thursday, Oct. 18.
"We're here to recognize the excellence of honor students who achieve good grades," said Tyler Sciara, Vice President of Tau Sigma and senior criminal justice student. "Transfer stu­dents tend to be more active on campus than non-transfer stu­dents. I find that transfer stu­dents really have experience of different schools and different communities. There's a lot of potential within transfer stu­dents."
Transfer students are also en­couraged to join Aimee Fasano, a Talent Acquisition Manager at Enterprise, for a talk on life after graduation held in Pozycki Hall room 206 on Wednesday, Nov. 7 at 1:30 p.m.
The event, sponsored by Tau Sigma, is an informative discus­sion about interview techniques and resume writing. "This is important for transfer students because they tend to come in as juniors and don't have much time before they graduate," Sci­ara remarked. "They really do need to think about that."
Shannon Sitzler, a sopho­more communication student said, "As a transfer student, I love change. You grow the most through a change in at­mosphere, people, and culture. Everywhere you go is always different, which is why it's pretty cool to be a transfer stu­dent."
The best part about being a transfer student is the ability to take past experience from past schools and share them with other transfer students as a part of a larger community.
Transfer students coming to­gether as a community creates opportunities for growth and success.
The University will continue to recognize the achievements of transfer students as they be­come involved in everything MU has to offer. Monmouth is a transfer-friendly environment that celebrates every transfer students' past accomplishments and encourages their future success.
Chanell Singletary-Eskridge, a psychology student, said, "As a transfer student, I really ap­preciate that Monmouth pro­vides resources for students coming from different colleges or universities, especially com­munity college.
Transferring requires a big adjustment for most students, and I have learned that the best thing to do is play an ac­tive role in one's experiences and education."
She continued, "I believe the transfer orientation was a major key to my transition be­cause I was able to receive re­sources specific to my major, as well as, have lunch with a faculty member within the department.
I chose Monmouth primar­ily because of its tight-knit community, emphasis on pre­paring students for graduate school, the Honors School and the simple fact that it resides within Monmouth County."
The Center for Student Success will be holding a ses­sion entitled, "You and Your Major…A Good Fit?" on Thursday Oct. 25 to discuss choosing a major and similar topics in the Rebecca Stafford student Center starting at 1 p.m.
Be sure to follow Transfer Services on Instagram and Twitter (@mutransferhawks) for news and upcoming events.