The University's Debate Team went undefeated and won the championship round in the novice division at the New York University (NYU) tournament the weekend of Friday, Nov. 9 through Sunday, Nov. 11.
Junior political science students Matthew Gruhler and JP Suttile were the two competing in the novice division that brought the University's team to win the tournament's championship round.
"Going into the NYU tournament Matt and I were much more comfortable and prepared as compared to the first tournament at West Point. In every round we worked well together and had a great team dynamic," said Suttile.
Gruhler explained that he also believes that he and his partner Suttile did so well because of their compatibility as partners, as well as their ability to create various arguments and rebuttals within the debate round together. "A compatible partnership is an essential factor for success in debate, and some of the best debating teams typically have the best harmony," he said.
During the two-day debate tournament, three other of the University's teams made it into the playoff round in this division, including: Anastasia Francisquini, a sophomore English student, and Chyna Walker, a sophomore criminal justice student, with 5-1 record; Julia Bialy, a junior political science student, and Maddy Doe, a junior political science student, with a 4-2 record; and Mia Ardovini-Brooker, a sophomore political science student, and Tayna Tabis, a sophomore political science student, with a 3-3 record.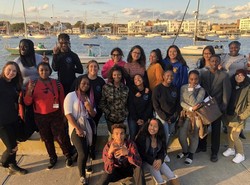 In the experienced division, the team of Gregory Harpe, a senior political science student, and Kaitlin Allsopp, a senior political science student, made it into the championship round after going 5-1 at the tournament. Gruhler noted that this team's compatibility as partners is what brought them to nearly winning the JV trophy at the tournament.
The team also won six individual speaking awards: Bialy took a first place speaking award, Doe took second place, Walker took fourth place, and Gruhler took a fifth place speaking award in the novice division. In the experienced division, Harpe took a first place speaker award and Allsopp won a second place individual speaking award.
Joseph Patten, Ph.D., the Debate Team's adviser and an associate professor of political science, said that junior political science students Erin Denzler and Axel Martinez, Jr., also competed "valiantly" at the tournament.
"Monmouth Debaters also competed at SUNY- Binghamton tournament in September and at the West Point Military Academy four weeks ago," he explained. "I'm really proud to be affiliated with such a group of hard working and talented MU debaters. They're also people of high character and tons of fun to be around."
According to Allsopp, one of the team captains, this year's topic was whether the United States federal government should substantially increase statutory and/or judicial restrictions on the executive power of the president in one or more of the following areas: "authority to conduct first-use nuclear strikes; congressionally delegated trade power; exit from congressional-executive agreements and Article II treaties; judicial deference to all or nearly all federal administrative agency interpretations of statutes and/or regulations; the bulk incidental collection of all or nearly all foreign intelligence information on United States persons without a warrant."
Suttile said that although he and his partner Gruhler wanted to win every round which they went into at the tournament, they also wanted to have fun.
"For me, the fun part of debate is that you have to think quickly on your feet and develop counter arguments in mid round, he said. "I'm very lucky to be a part of such a great debate team. "They always go above and beyond to help us however they can."
Gruhler and Suttile attribute their success at the tournament to several factors. The most important, they explained, was the coaching of the team's adviser. "Dr. Patten is one of the hardest working professors at Monmouth and genuinely wants to see his students succeed," said Gruhler.
Suttile agreed, and stated that he is thankful to Patten for encouraging him to join the team this year.
The team agrees that the most influential aspects of the University's successes at the tournaments stem from their adviser and Coach Patten and the camaraderie of the entire team.
"Without Dr. Patten's passion for political science, debate, and for his students or the camaraderie of the whole program, the Monmouth Debate team would not nearly be as successful and filled with great experiences as it is now," said Gruhler.
Team leaders also serve as the head coaches of the Asbury Park High School Debate team, whom they took to their second tournament and won several awards the weekend of Saturday, Nov. 17.
The Asbury Park High School Debate Team was launched nine years ago as part of a continuing debate mentoring program with the University, made possible by a grant from the TD Bank Foundation and actively supported by the Asbury Park school district.
The team is co-coached by Patten and Asbury Park English teacher Christine DeMarsico.
The partnership between the University and Asbury Park High School has successfully maintained a rigorous debate platform where the debaters learn civics, political science, history, and philosophy while teaching them the important skills of critical thinking, listening, research, reading, and writing.
Both students, the Monmouth Debaters and the Asbury Park Debaters, sharpen their debate skills but more importantly learn the value of teamwork, ethics, and education, Patten explained.
The University's Debate Team will be competing in three more tournaments this year, including a tournament in San Diego in January, the New School in New York City in February, and another tournament in March, which is yet still undetermined.
PHOTO COURTESY of JP Suttile
PHOTO COURTESY of Asbury Park High School