Honors School Sends Eight Students to Boston Research Conference
---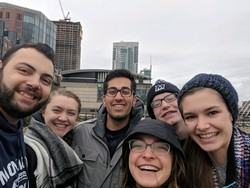 The University's Honors School sent eight students to the National Collegiate Honors Council's (NCHC) annual conference from Nov. 7 to Nov 11 in Boston, MA, where one student won an award for their poster presentation.
Out of the eight students that attended on behalf of the Honors School, five students presented their Honors research: Nicole Sivetz, a senior biology and chemistry student; Harry Termyna, a senior psychology and political science student; Michal Kalisz, a senior biology student; Kirsten Lawson, a senior chemistry student; and Mehdi Husaini, a junior biology student. The others present to observe and attend the conference were Gianni Mazzone, a junior business administration student; Susan Schuld, a graduate student studying English; and Kelly Schuld, a junior education student.
"The [NCHC] serves thousands of Honors colleges across the United States, providing advanced research in Honors education, professional development opportunities for Honors faculty, and hosting a national conference for undergraduate research every year," said Walter Greason, Ph.D., Chair of the Department of Educational Counseling and Leadership, as well as the most recent Dean of the Honors School.
Husaini won second prize for his poster presentation in the category of Natural Sciences and Mathematics.
"Mehdi Husaini's prize-winning poster in the natural sciences is a reflection of his keen intellect and years of guidance from the outstanding faculty at Monmouth University," said Greason. "Among a group of the best young scientists in the world, Mehdi showed that the Honors School sustains its role as a paragon of advanced undergraduate research."
"It is a national competition, and Mehdi's poster was chosen from among over 100 posters in natural sciences," said Scott Jeffrey, Ph.D., associate professor of management. "It shows a commitment to high quality research and recognizes Mehdi as a promising young scholar."
"Our participation in the national and regional conferences demonstrates the exceptional quality of the undergraduate research we do in the Honors School at Monmouth University," said Greason, who emphasized that the conference pushes students to become reenergized about their research plans and come back with new ideas and techniques.
"It is vital to send Monmouth Honors students to conferences like this because it gives them an opportunity to share their research and learn from their peers," said Susan Schuld. "The workshops (such as resume building, mock interviews, and master classes) allow students to hone their academic and professional skills, preparing them for life after Monmouth."
"These trips are also a great opportunity for MU's Honors School to spread its reputation and demonstrate to prospective students how our honors students are supported in pursuing their passions," said Sivetz. "It is extremely important to be able to communicate the importance of what you do, regardless of your projected career path. Being able to connect with a wider audience not only validates a strong command of your respective field, but your understanding of a subject becomes all the richer by gaining the perspectives of others."
"I learned how important a thriving honors school is to the overall success of a university," said Jeffrey in reference to the points he took away from the conference. "While some may view this as elitist, the Honors School is a positive aspect as it brings reputation and notoriety to the university. It can serve as an incubator for curricular and administrative ideas" He also stressed that
"I presented my psychology thesis from last semester [called] 'Evaluating how Perceptions of Perfectionists Influences Others to Collaborate with them in the Classroom,'" Termyna. "A major highlight of this trip was being able to have my resume evaluated by a professor from another institution in the [Washington, D.C.] area. He also gave me a lot of valuable insight in different graduate courses I can take in order to work in academia myself one day." Termyna stressed the important aspect of career-preparedness, and how that was stressed at the event.
"The highest quality students and research is showcased at these conferences and by undergoing the rigorous application process and competitive presentation judging, our Honors Students rise to the top of their fields and make substantial and meaningful impacts in the academic community beyond Monmouth," Susan Schuld remarked.
PHOTO COURTESY of Gianni Mazzone