Game 6 of the American League Championship Series had just concluded on Oct. 19, with the Houston Astros defeating the New York Yankees by a score of 6-4.
According to Stephanie Apstein of Sports Illustrated, during the Astros' postgame celebration, Assistant General Manager Brandon Taubman approached three female reporters, including one that wore a purple bracelet in honor of National Domestic Violence Awareness Month. He yelled at them, half a dozen times, "Thank God we got Osuna! I'm so f****** glad we got Osuna!" Taubman was referring to Roberto Osuna, Houston's right-handed closer, who served a 75 game suspension for alleged domestic violence last season.
Sherry Wein, Ph.D., Associate Professor of Communication, noted, "There is a natural tension between a sports team and the press. During moments of celebration, this tension can be magnified as the team celebrates and the press documents."
"The reporters were not talking to Taubman. He just yelled at them, which made it difficult for them to do their jobs. Taubman was not talking to Osuna, either, so his comment was not supporting or assisting anyone," she said.
"It paints a picture of a team that, from management down, is out of control. Whether it's how they act towards each other and the media, regardless of gender, or how they're doing business on the field, it needs to be reevaluated, because it's very concerning and alarming," commented Eddy Occhipinti, Associate Athletics Director of Marketing & Sponsorships.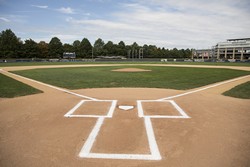 Once Apstein's Oct. 21 Sports Illustrated article was released, the Astros refuted her allegations by responding with a statement claiming the story was "misleading and completely irresponsible."
"I think in today's climate with social media and everything coming out so quickly there's a rush to get some kind of statement out as soon as you can. That can take some time, but in this situation, it feels pretty cut and dried with such a serious allegation," Greg Viscomi, Associate Athletics Director of New Media & Communications, explained.
However, he also points out that sometimes, in the case of public relations managers, there can be people at a more executive level that make decisions and ultimately have the final say in what is said publicly. "In our job, you kind of play the hand you're dealt," he said.
Jennifer McGovern, Ph.D., Assistant Professor of Sport Sociology, explained, "The biggest place where they went wrong was pretending [the situation] didn't exist and making the statement that made the reporter seem like they were making it up. That moves it from a level of one individual who's outside the norm and acting in a way that we don't like to: 'Our organization as a whole feels this way,' even if that's not what they meant."
"It's to say, individually, that person didn't take a female reporter's perspective seriously, but to say that those reporters were wrong and that never happened, means the organization as a whole is saying, 'We don't take certain types of perspectives seriously,'" she continued.
The day after the Astros' initial statement, they issued two additional statements from Taubman and owner Jim Crane.
"Brandon Taubman issued a 'non-apology.' He attempted to self-promote as a 'progressive and charitable member of the community,' and a 'loving and committed husband and father,'" Dr. Wein stated. "By saying 'if anyone was offended,' he is just denying the offense that occurred and the identity of the reporters who were offended."
"Jim Crane, in his response, did not address the immediate offense," Dr. Wein continued. She suggests that he should have addressed bullying in the original organizational statement, since there was a hostile interaction between Taubman and the reporters, and a personal attack between the Astros and Apstein.
Days later, Brandon Taubman was fired. "You don't know what the structure of the organization is, but it looks like they reacted to the backlash. The way the story played out was: story, scandal, reaction (which was the firing), and then the after effects," explained Occhipinti.
On Oct. 27, five days after the Astros said that Apstein put out a fabricated story, they retracted their statement.
So, how could the Houston Astros have prevented such a monumental public relations disaster, as Dr. McGovern described it? She believes it did not start in October, but rather, over a year ago, when the Astros traded for Osuna.
In May 2018, Osuna, a member of the Toronto Blue Jays at the time, was arrested on suspicion of assaulting his girlfriend. Shortly thereafter, he was suspended for nearly half a season for violating MLB's domestic violence policy. Just one month later, the Astros acquired Osuna, a 2017 All-Star, via trade. The move left a bad taste with many fans who viewed the club as taking advantage of an unfortunate situation.
Erin Mulligan, a sophomore Communication student and aspiring sports reporter, said, "I'm a huge Yankees fan, but I cannot completely stand behind Aroldis Chapman because of his domestic violence issues, and if you look at how the Yankees handled the whole thing with Domingo Germán [who was suspended this September and for the entire postseason due to an investigation regarding domestic violence] versus how the Astros handled it, the Yankees did such a better job.
Viscomi explained, "They took a huge gamble in taking Osuna to begin with, and domestic violence is a huge issue in this country and in professional sports. There's not a sport that escapes it. The Astros made the decision of wins over PR."
That decision of wins over PR became evident this postseason. Although that October 19 win against the Yankees clinched their second World Series appearance in three years, that night was not one where Osuna had a dominant pitching performance. In the top of the ninth inning
with the Astros up 4-2, he allowed a game-tying home run to New York Yankees second baseman DJ LeMahieu. In the bottom of the inning, Astros second baseman José Altuve hit a two-run walk-off home run to automatically send his team to the Fall Classic. Without Altuvé's home run, the Yankees could have won that game, forcing a Game 7, which if the Astros lost, would eliminate them from the postseason altogether.
Even taking into account his mediocre performance in Game 7, Osuna is considered a core member of Houston's bullpen. Since they acquired him last July, he has posted a 2.46 earned run average and 50 saves. This season, he was a top three finalist for the American League Reliever of the Year Award.
There is no way for the Astros to turn back the clock and prevent what already happened, but many agree that the team can reform their policies and set standards of respect for everyone to follow.
Alexis Nulle, Specialist Professor of Public Relations suggested, "There should be an Executive Crisis Team leader and/or company spokesperson to issue statements on behalf of the organization and control the message before the public does."
"I think the biggest thing is, sometimes, people have to check egos. The owners and all those people have to check egos of the people they trust with public relations. They have to be able to talk about crafting this message in the best way, so that they can get honest information out there without maybe giving out every single detail to protect the organization," Viscomi explained.
"There should be a message. Our job is to get everybody on the same page and give out the most positive message. The real game of our job is how you put out an honest, positive message, because you don't want to be caught lying, like it seemed the Astros were doing," he noted.
David McCarthy, Vice President of Consumer Products Marketing for the National Hockey League and Adjunct Professor of Sports Marketing, remarked, "Sports executives who are empowered to make decisions regarding their team's performance need to consider their fan base when selecting certain players. Most sports teams fan bases are comprised of 40 percent women who have a powerful voice, even more so when their stories are amplified through traditional and now social media."
"The pulse of the community must be monitored and understood to ensure that sport will continue to provide quality entertainment free from tarnish of misdirected behavior and actions," he continued.
"This a tough, but important lesson to learn, as domestic violence has no place in society. The administration must understand that they now live in a bubble in clear view of the public, and, as a result, they need to understand the values of their fans and act accordingly," McCarthy concluded. "Any mistakes must be owned and remedied as soon as possible because the truth always comes out. Hopefully, the lesson has been learned and other sport franchises will take notice and act accordingly to protect the sanctity of sport in our society as an escape from the stresses of life—not adding to it."
PHOTO COURTESY of Monmouth University
PHOTO COURTESY of Anthony DePrimo