The Festival of Languages has become a part of Monmouth's annual multicultural festivities, bringing an enrichment of culture and knowledge to campus.
Founded in 1996 by Priscilla Gac-Artigas Ph.D., Professor of Spanish and Latin American Literature, with the participation of students of Spanish, the festival has expanded past a single language into the celebration of many.
With the collective help of students and faculty from the World Languages & Cultures Department, the Festival of Languages was an entertaining, exciting and engaging occasion open to all of campus on Wednesday, Nov. 20. Students of varying majors, as well as video presentations of high school students, were showcased in the event.
The purpose of the event is to continue the mission of founder Gac-Artigas, while fostering a pride in multicultural artistry. Gac-Artigas said, "It represents a privileged moment for students of languages where they take the stage and the world is theirs."
Gac-Artigas also mentioned that for language professors, it is gratifying to see students ready "To enter the globalized world with confidence," which was very clear to the audience. The student performers payed homage to the language they chose to represent with confidence.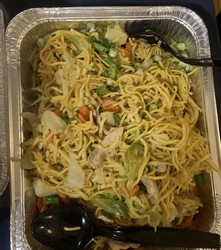 The event began with the recital of the poem "Palabra" by Pablo Neruda, which speaks of Spain's stripping of riches, yet leaving a unifying language to colonized Latino countries. It set the tone for a celebration of both languages and cultures, accompanied by excelling students who practiced and prepared thoroughly. Along with these performances, many students catered the event with diverse ethnic foods.
One of the festival's performers was Julianna Colonna, a junior foreign languages/Spanish and education student. She said that prior to performing, she was, "A bit nervous even though I didn't have to be, because [the poem] was broken up between my classmates Eryn, Rebecca and I." However, after getting on stage and being in front of a crowd, she, "Felt more confident and the nerves calmed". Colonna added that, "Performing in a second language made me feel more timid… but I knew I wouldn't be judged by my classmates."
Breasia Love, a sophomore business administration student, agreed that prior to performing there were nerves, but having the support of fellow classmates "Helped alleviate the fear…and made the experience more fun." Students who performed were able to sit within the crowd and support their fellow foreign language classmates and enjoy their performances.
Both Colonna and Love agreed that every performance was wonderful, with Colonna specifically stating that she, "Really liked how diverse the presentations were, the deliverance of various languages, and the many ways information was performed."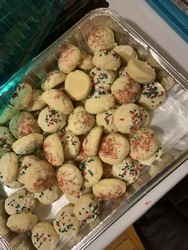 Monmouth's Festival of Languages not only surpassed the expectation of showcasing Spanish language and culture, in which the event originated, but the other languages taught at Monmouth—as well as the students' range of aweing talents. Amongst these talents are not only their biliteracy, but also the usage of creating posters, modeling, reciting poetry, presenting PowerPoints, showcasing videos, dancing, singing, and playing instruments like the piano and french horn.
Love said it was, "Very inspiring seeing other students sing in a language they're trying to master in." She added, "I am biracial; mixed African American and Puerto Rican still learning Spanish, and I wish to be just as fluent as the performers at the show."
The annual event was a wonderful success. The food and performances were all astounding. All participants that made this event possible are proud of its cultural impact on the University.
Gac-Artigas stated, "For many of them, it is not easy to express themselves in front of an audience in English—now, doing it in another language is an accomplishment of which they must be very proud."
PHOTO'S COURTESY of Priscilla Gac-Artigas