University Advancement accomplished a lot in the past fiscal year. Between June 30, 2018 and July 1, 2019 the Donor Impact Report states that the University received more than $15.4 million in gifts, pledges, and planned gifts. This is an over 65 percent increase compared to the previous year in which $9.3 million was committed.
According to Monmouth's website, University Advancement is a division responsible for "working with alumni and friends, we raise much-needed scholarship funds and support the key initiatives that draw students from all over the world to Monmouth University's vibrant coastal campus." University Advancement is the larger umbrella term that encapsulates the four different departments: Development Team, their largest department, Alumni Engagement and Annual Giving, Donor Relations and Stewardship, and Advancement Services.
Jonathan Meer, the Vice President of University Advancement oversees all of these departments and also works toward making those relationships with possible donors in order to cultivate gifts for the university. The Development Team focuses mainly on fundraising, "We go out and meet with donors, generally donors that have the capacity to make major gifts $10,000 or above," says Meer.
Alumni Engagement and Annual Giving "do a little bit of fundraising, but mostly it's [planning] reunions [and] events." Meer also stated that they are responsible for Annual Giving, or "low level giving" as he referred to it. An example of this would be the Philanthropy Chord Project, part of the Senior Giving Campaign, in which graduating seniors make a donation and receive a philanthropy chord to wear for commencement. The class of 2019 set a record with over 400 gifts toward the Philanthropy Chord Project, and all of this money goes towards student scholarships.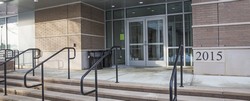 The department of Donor Relations and Stewardship is "what we do to thank donors on a regular basis so they will stay donors and they'll think well of the University," says Meer.
Advancement Services is related to fundraising, but they do not actively attempt to raise money. "You make a gift, that gift comes in and is processed through Advancement Services," explains Meer. "Say you changed jobs or you moved, you would send us that information and we would change it in our database."
This majority of this success is a direct result of the Together We Can: The Campaign for Scholarship. The Donor Impact Report says that over 2,000 donors helped exceed Monmouth's $15 million goal by more than 30 percent. In the Report, campaign co-chairs Carol Stillwell and Valerie Montecalvo thanked all the generous donors who contributed to the impressive $19,644,297.
The co-chairs outwardly thank some of the larger donations made to the campaign including OceanFirst Foundation, who committed a $200,000 challenge grant and the members of the University community who committed almost $700,000. A majority of this accomplishment is thanks to alumnus Don Bressler ('61) and his wife, Hedy for an ample trust commitment of $4 million which the Donor Impact Report says "made an emphatic conclusion to the campaign."
A gift of that amount is considered a major gift in the division of University Advancement. Major Gifts have a minimum of $10,000 and can go all the way up to $10 million, says Meer. "Roughly 2000 of our alumni, our parents, our friends, our neighbors, corporations and foundations are considered major donor prospects. They're prospects for big gifts."
Although Meer oversees the Advancement division, prospects for larger donations are assigned to University President Patrick Leahy, "[He's] not only our president, but he's a great fundraiser. He was VP of fundraising at the University of Scranton. He has a ton of experience," says Meer. The people at the top end of the gift pyramid, those $1 million, $5 million, $10 million are assigned to him. The ones just below there, are assigned to me and then, maybe the donors in the 10k to 250k range are assigned out to our Directors of Development who are nested in our six schools."
The six schools are divided between four Directors of Development: Chuck Gerdon, David Howell, Karen Keene, and Beth Brody. Gerdon supports the Wayne D. McMurray School of Humanities and Social Sciences, Howell is responsible for the Leon Hess Business School, Keene manages the School of Science and the Marjorie K. Unterberg School of Nursing and Health Studies, and Brody oversees the School of Education and the School of Social Work.
"We like this philosophy, we call them dedicated gift officers, or nested gift officers, because they are actually located in the units that they support," says Meer. "Dave Howell, his office is right next to the Dean's so there are faculty walking through there all the time, he develops relationships with them. Those relationships are often what give rise to leads. No one has a better relationships with ongoing alumni than faculty."
However, according to Meer, alumni participation is sinking nationally. Out of about 50,000 Monmouth alumni, approximately 2,000 made a gift last year, which is only 4 percent. US News and World Report uses alumni participation as a way to rank colleges nationally, Monmouth was ranked 28th. Other factors are taken into consideration such as retention and graduation rates, SAT scores, student to faculty ratio, percentages of classes under 20 or over 50, and peer assessment, what our peer Universities think of us. The 4 percent that do give back to their alma mater is "not indicative with what our alumni say when we ask them about their experience," says Meer. In order to improve that percentage by just one percent, 500 more Monmouth graduates must participate in giving back to the University.
According to Meer most of the gifts to Monmouth come from non-graduates. Two-thirds of last year's gifts came from non-Monmouth graduates, "they come from people who are friends, or who are parents of students, or parents of alumni, or season ticket holders."
Meer and his team have a few idea in how they can raise the alumni participation percentage, one of the main ones being Giving Day taking place on Wednesday, March 25. "We have coincided with the 25th anniversary of Monmouth becoming a University. We are using a new crowdfunding platform to run a day of giving… [We are] Going to encourage our alumni, parents, friends, staff, trustees to make gifts on that day."
In correspondence with the efforts to increase alumni participation, there is a plan in the works right now that will map our goals, figures, and steps to achieve them. This will serve as Monmouth's roadmap for the next five years and will be delivered to the Board of Trustees by May or June, says Meer. Monmouth's current goal for the fiscal year of July 1, 2019 to June 30, 2020 is $10 million, and we currently are at $8.2. The strategic plan will have a reasonably ambitious goal, "a number of our peer institutions are raising $80 [million], $100 [million], $150 million over a five to seven year time horizon. I would be surprised if our goal for our campaign is not in that range, it'll be more money than we've ever raised before in our history and it'll hopefully make Monmouth a much stronger and compelling institution that's attractive for new and coming students and a point of pride for alumni students," says Meer.
"We work for you," Meer says. Everything we're doing, we're doing to make Monmouth a stronger institution. If I could leave your readers with one thought it's there are probably lots of reason why not to give, but think about the reasons to give. There are very few ways students or graduates can vote for your alma mater, your college, your university. They only way you can vote for Monmouth is to make a gift. Consider giving back to provide opportunities for the next generation of Monmouth students."
PHOTOS COURTESY of Monmouth University