The spooky season is in full effect as we approach Halloween this week. Halloween has always been a favorite celebration for college students. Dressing up in crazy costumes with your best friends, binge watching your favorite Halloween movies, indulging in candy and the list goes on.
Sadly, this year, we have to take into consideration the safety of our friends and family as we celebrate Halloween in the midst of a global pandemic. Can we celebrate Halloween safely?
College students are eager to put on a fun costume and party with their friends this upcoming weekend, but it is very important to remember coronavirus is still here. Our campus is just coming out of a two-week shut down due to rising cases; we must all do our part to maintain a healthy campus community. Even if that means saying no to a Halloween party.
This Halloween season, it is strongly suggested to celebrate in small groups and obey the pandemic guidelines. Instead of attending a Halloween rager, try something more low-key. Carve pumpkins with your roomies, binge watch the Halloweentown series, decorate Halloween cookies, or check out a haunted house. One local haunted house to check out is Nightmare at Gravity Hill in Jackson, NJ.
Located at 1005 Farmingdale Road in Jackson, Nightmare at Gravity Hill features over a dozen different spooky scenes and settings that are spread out over five acres. Thirty-five minutes of terrifying walkable haunted trails, as well as creepy themes and adventures. Children under the age of 14 are not permitted without an adult, making this attraction great for college students looking to be genuinely scared.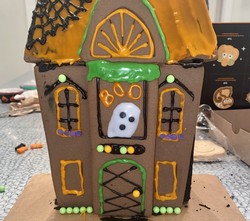 Their amazing haunted walkthrough will change the way you sleep at night…or make sure you never sleep again! In addition, Nightmare at Gravity Hill enforces COVID safety measures such as wearing masks at all times. This is a perfect attraction for those looking for some safe but scary Halloween fun.
Nightmare at Gravity Hill is just one of the local haunted attractions that are operating during COVID-19. Many safe Halloween activities are in full operation, making it easy to celebrate safely. Do not be a fool and party recklessly; there are so many other options to celebrate the spooky holiday without putting yourself, and others, at risk. This Halloween season seek COVID friendly activities and ditch the large Halloween gatherings.
The CDC recommends that people incorporate masks into their costumes. Which may seem hard but get clever with your costume and find the perfect mask-friendly costume. The CDC also suggests carving pumpkins, going to an orchard or corn maze and hosting a treat hunt or a movie night.
But of course, do all these activities with your family or roommates, and if you do invite others, make sure to host your activities outside, wear masks, and wash your hands and sanitize frequently. You can still have a good time this Halloween—you just need to be cautious and make sure you are following guidelines. For more information on how to stay safe this Saturday visit cdc.gov.
I know that I will be doing my part this Halloween by finding a safe way to celebrate by wearing my mask and keeping my distance from others while still embracing the spooky holiday. I know it will be hard not to go out but we all must make sacrifices to keep ourselves and others safe. We can have a safe Halloween if we all do our part.
IMAGES TAKEN by Lauren Salois