On June 30, 2021 Monmouth University's Vice President and Director of Athletics, Dr. Marilyn McNeil will be officially retiring from the role she has served for the last 28 years.
McNeil has spent 53 years total in the collegiate athletics field including her time as an athlete, coach, administrator and Athletics Director.
"While I have held many roles in intercollegiate athletics, the undisputed highlight of my career has been leading Monmouth for the past 28 years," said McNeil. "and almost completely because of the wonderful coaches and
staff beside me."
---
This speaks to the gift of McNeil who has led a plethora of phenomenally successful collegiate coaches. Remarkably, eight of the University's current head coaches have been with the team for ten or more seasons. Even more impressively, head football coach Kevin Callahan, head soccer coach Krissy Turner, and head women's tennis coach Patrice Murray have led their teams for over 20 seasons. All of these tenures have been overseen by none other than Dr. Marilyn McNeil at the helm.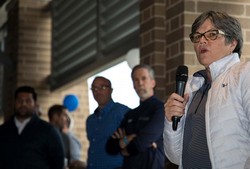 It is difficult to appropriately measure the impact she has had on Monmouth University athletics as a whole through simply words and numbers. McNeil helped lead all of her programs to a combined 119 regular season conference championships with a grand total of 38 National Collegiate Athletic Conference (NCAA) championships during her tenure. She helped the university's reputation improve from relatively no-name programs to some of the most dominant in all of mid-major Division One athletics.
"Dr. McNeil's influence on Monmouth will be felt for decades to come," said Monmouth University President Dr. Patrick Leahy. "Our athletics program grew significantly during her tenure, giving hundreds of students the opportunity to compete at the highest levels of collegiate athletics."
As a strong advocate for the Title IX rule in college sports, McNeil's impact has been felt strongly in terms of gender equality. She helped bring seven new sports to Monmouth including five for the women's side.
Dr. McNeil served on the Division One NCAA Committee on Women's Athletics and the office of the President for National Association of Collegiate Women Athletic Administrators (NACWAA). If that was not enough, she also served with the Division One NCAA Women's Basketball Committee where she was the chair for a year.
Some of the major initiatives she led while serving these roles were trying to improve budgets, staffing, hiring processes and other equality practices that she implemented into her programs. An example of this was the all-female Division One voting delegation that she brought to the NCAA convention.
"Dr. McNeil is a fierce advocate for our student-athletes," said President Leahy. "She has been a leader on this campus for years, as well as a leader throughout intercollegiate athletics nationally, and her influence will be sorely missed."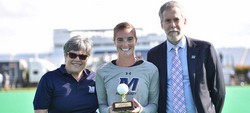 This is reflected by the "A" grade Monmouth received from the Tucker Center for Research on Girls and Women in Sports for the number of women head coaches at Monmouth. As well as the top-notch facilities that she has helped add to the University during her tenure such as OceanFirst Bank Center, Kessler Stadium, and So Sweet a Cat Field.
Incredible academic achievement has also been a key part of McNeil's impact, with a constantly improving cumulative GPA and graduation rates well over 90 percent.
"Monmouth has been a great environment to grow and learn and I am thankful for having so many influential mentors," said McNeil. "Our new athletics leader will surely see these cornerstones and move the Hawks upward."
Monmouth has yet to determine who McNeil's replacement will be but the job search will begin in the next few months with massive shoes to fill.
PHOTOS COURTESY of Monmouth Athletics