One of the most highly anticipated events each year at Monmouth University is Panhellenic Recruitment. This event takes course over three days at the beginning of the spring semester, and attracts undergraduate women who are interested in joining a sorority. However, like most things this year, this event will now be hosted virtually from Feb. 19-22 via Zoom.
The Panhellenic Council of the University has been working tirelessly to ensure that recruitment weekend runs smoothly. Samantha Trippiedi serves as President of the Panhellenic Council. She said, "As Panhellenic President, I have been working extremely closely with our Panhellenic Vice President of Recruitment, Natalie Cianci, as well as our advisor, Tyler Droste, to make sure we plan the best and most efficient virtual recruitment as possible."
For Trippiedi and the council, this means covering all bases from technological difficulties, to ensuring the potential new members feel confident going into the weekend. Trippiedi added, "In a virtual world, it can be anticipated that there will be technological issues- but that does not mean there should be any reason to stress. PNM's will have their Recruitment Counselors (also known as Rho Gamma's) as a point of contact as well as the Panhellenic Exec to go to in case they experience any issues!"
The comfort of the potential new members is also something that Trippiedi is not taking lightly. She crafted a "PNM Guide for Virtual Recruitment" which she said will be released soon to help the potential new members prepare for the weekend's events.
Given the circumstances, the five Panhellenic chapters on-campus have also been preparing all year to host potential new members. Kelly Petersen serves as the Member Development Vice President of Alpha Xi Delta's chapter at the University. She said, "Recruitment will definitely be a different experience this year due to COVID-19, but thankfully technology will help us get to know new members!"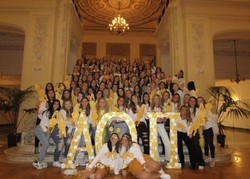 Ruby Dougherty is the Vice President of Membership recruitment for Alpha Omicron Pi's chapter at the University. She said, "Although planning a virtual recruitment has been very difficult it will be so rewarding. I speak for all members of Alpha Omicron Pi when I say we are looking forward to recruitment weekend so much! We have prepared so much for this and have been working very hard. Our chapter is very excited!"
However, this has also been a daunting process for the chapters, as noted by Tessa Listo who serves as Tribune for Phi Sigma Sigma. She said, "my chapter has been preparing for virus recruitment by discussing our anxieties together about it being online. This is new to everyone on all sides so it's very nerve wracking for all of us."
The chapters on campus are urging women to participate in recruitment and join a sorority. Liana Monticello is the Vice President of Recruitment for Delta Phi Epsilon's chapter at the University. She said that despite sisterhood being virtual, sorority life is still "a network" where you can make so many friends.
These connections are what makes it all worth it. Petersen expanded on this saying, "Sisterhood is more than just having events in-person or on campus; it may be as simple as seeing a sister on campus and walking to class with her or lending her your laptop charger. There are several aspects to sisterhood and being part of a sorority will allow you to see this."
For more information on Panhellenic recruitment, be sure to follow @monmouthphc on Instagram!
PHOTO COURTESY of Mike Lanis
PHOTO COURTESY of Alpha Omicron Pi Iota Theta