The preseason poll leaders in the America East conference, Monmouth field hockey, capitalized on their season opener against Hofstra with a 2-1 come-from-behind win.
The Hawks started slow going down 1-0 in the early part of the game at the 21:47 mark off of a put-back rebound. This game was a defensive battle through and through as the score remained 1-0 heading into the locker room at half time.
However, the blue and white showed immense resilience with two unanswered goals starting with senior leader midfielder/defender Ireen Frenken who knotted the game up at the 30:42 early in the second half of play. Her goal was a strike from the top of circle executed from an assist by sophomore defender Bente Steenhorst for her second career assist.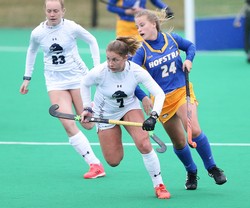 After ten more minutes of grind-it-out defensive play sophomore midfielder Aylin Aufenacker tapped in the game-winner that came off the cross from the far end-line. Aufenacker's clutch goal was assisted by junior forward Annick van Lange whose illustrious collegiate career now has 61 points. This is now the 12th highest point total in Monmouth field hockey history.
Monmouth closed out the game with nine shots on goal compared to Hofstra's two as the defense put on a show led by the redshirt sophomore Ally Tarantino who made her first career goal in net allowing just one goal. MU also outshot Hofstra by a total of 15-4 overall for the entire game.
Despite earning a green card at the end of the game, they closed it out with a big stand by the defense who refused to allow anything to get to the net. Junior goalkeeper Kate O'Hogan closed out the game in net for the Hawks and got the win to improve to 22-8 for her career.
"I felt we showed well in the second half," said head coach Carly Figlio. "The girls proved yet again that their tenacity and character can change the trajectory of any game. I am very proud of this team and happy to finally be out there playing."
Among the MU players, two were performing in their first ever starts, junior midfielder Katie Yoder and junior forward/midfielder Aly Perez.
The victory is Monmouth's fourth straight over the Pride improving to 4-5 in their all-time series. More impressively, it was the team's first come-from-behind win at halftime since a victory against Cal in the conference semifinal on Nov. 8, 2019.
Coming up next on the schedule is the home opener for Monmouth as they will take on LaSalle on Sunday, Mar. 7 at 11:00 am. The game will be played at So Sweet a Cat Field as Monmouth will be looking for So Sweet a Victory.
PHOTOS COURTESY of Monmouth Athletics