It was the very first day I walked into the Plangere building for my first day of Intro to Journalism Freshman year, that I was told I needed to go over to the prestigious, Outlook Office. I took the short walk past Hawk TV, past WMXC, and into the newsroom that I would eventually call my second home for the next four years. Little did I know that this office would soon be renamed after the legendary journalist, Linda Deutsch, and I would be her first ever scholarship recipient.
I mention this not to brag about myself, this University, or The Outlook, but rather to show everyone out there the opportunities that this hidden little corner of Plangere has presented us all with. I may not know what exactly the future holds for me after graduation, but I do know that The Outlook has prepared me for whatever journey is coming my way. It has taught me leadership skills that few college students have the opportunity to learn, time management that I will need for the rest of my career, and how to properly format a date in Associated Press style.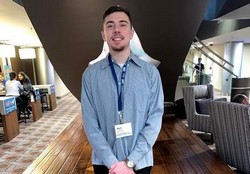 My passion for sports has always been the driving factor of my life and I am beyond grateful for both Monmouth and The Outlook for allowing me to continue my passion. When I was deciding between Penn State and Monmouth my senior year of high school, a huge variable for me was how quickly I would be able to contribute to their sports media programs. From the very first time I stepped on the Monmouth campus I was told no position was out of my reach and the opportunities were endless.
The Outlook took me places I never could have imagined over the past four years. From a contributing writer my very first day at the school, to a staff writer a couple months later, to an Assistant Sports Editor the following year, to now the Lead Sports Editor for the past two years. It even brought me one of the experiences of my life last spring when we all attended the National Journalism Conference in San Francisco.
My message to all newcomers to the Monmouth University campus is to find your passion, whatever that may be, and join an extracurricular activity that pertains to it the first day you walk on campus. Whether you eventually turn this into a career or not, being a part of that group will not only help you realize what you want to do with your life, but also introduce you to amazing people who share the same passion as you. I can honestly say The Outlook has been the greatest part of my experience at Monmouth and I will forever be thankful for the opportunities it has provided me with over these past four years.
PHOTOS COURTESY of Mark D'Aquila