On March 29, the sisters of Alpha Kappa Alpha Sorority Incorporated kicked off their ten year anniversary celebration, "Skee Week," with an informative event called, "Lethal Dollars: What's Your Five Year Plan?"
I had the pleasure of attending the event, which was moderated via Zoom by Jasmine Cooper, the president of the Tau Eta chapter, alongside Vice President Kayla Kennedy, with the help of sisters such as Aliah Moore, Briana Brown, and Taheara Gibson Clarke.
The event helped inspire attendees to use their personal, career, financial, and relationship goals as a way to foster financial and personal success, by using the Five Year Plan, a strategy that was originated in the Soviet Union.
According to a video shown during the event presented by Alex Hein, author of the book Master of the Day, the Five Year Plan is "a very very simple process of looking back at the last five years and trying to figure out what went right and what went wrong."
Hein suggests practicing self-reflection and asking yourself questions that relate to what you want to achieve in the next five years. Some of these questions include: "what would it take to be the best year of my life…what would be the most awesome thing?"
Hein also encourages challenging yourself by doing the things you are most afraid of. He used fear of isolation as an example, saying "Isolate yourself intensely for a week. You don't use your phone to reach out to anyone, you don't go out on a Friday or Saturday or Sunday when you're aching for connection…record what happened and how you felt, and you realize it wasn't that bad."
As someone who also has a number of fears, this step in the process was daunting, but I felt motivated to put myself into vulnerable situations, especially since I knew that it can lead to immense self-growth in the long run.
Another key step in the process of creating your Five Year Plan is crossing off items from your bucket list and creating attainable goals that can be achieved every year.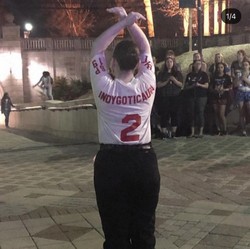 With that in mind, the sisters of Alpha Kappa Alpha provided participants with a Five Year Plan template and allotted time for attendees to complete it and set goals for themselves. For me, a first-semester senior, this exercise helped me get an idea of the things that I want to achieve over the next several years, especially in terms of my plans post-graduation.
Briana Brown, a sister of Alpha Kappa Alpha at The College of New Jersey, said that self-care and well-being is a huge goal. She said, "Taking some time out of my day for myself because I make so much time for my academics and other people because it's possible to take time for myself….and take time for my own well-being."
Cooper echoed Brown's sentiments, saying, "My life is very unbalanced…it's very much school-focused, and I think that's something I have to take into consideration when planning out my next five years."
Overall, this event was a very thought-provoking and inspiring way to kick off a week full of insightful events. Thankfully, the sisters aren't finished yet, as they will be going out with a bang when they host the annual favorite, "Mr. Pink and Green" on Thursday, April 8.
For more information on the Tenacious Tau Etas, be sure to check out their Instagram, @taueta_akas.
PHOTOS TAKEN from AKA – Tau Eta