I transferred to Monmouth in the fall of 2019, and I honestly wish I came here sooner. I never knew the home that I was missing, that being The Outlook and the whole Communication Department.
I always had a love and passion for writing, but never knew what I could do with it, until I came to Monmouth. My time here has truly shown me how capable I am, and I have cherished every lesson learned here. I wish my time was not so limited, but everything I have learned during my two years here will stay with me forever.
Writing for the politics section has been such an amazing learning experience for me as a writer and as a journalist. Politics is such a complex area, and to write about it has been so fun to learn more about it. I am so thankful for all of the professors and students who have contributed to this section and made it as successful as it was. I am also very thankful for my writers who wrote articles for this section every week. You all did a fantastic job, and I hope you all continue with this section in the future.
To be awarded as Senior Editor was also a dream and such a big accomplishment for me. I really want to thank Melissa and the whole staff of The Outlook for helping me achieve it.
Mom and Dad: There are not enough words to describe my gratitude and love for the both of you. You both have done everything you possibly could for me and taught me how valuable the love of family is. Mom, without you I would be nowhere. You have saved me from the darkest times in my life and you have pushed me to keep going. I admire your strength, for it motivates me even more. Dad, I would be nowhere without you, and am so appreciative of everything you do for me. You have told me since I was a little girl to go after what I love, and to never be ashamed of it. You taught me the importance of doing what you love and also, the importance of family. You never gave up on me and thank you for that. I hope I can make you both proud in the future. I love you both immensely.
Alex and Sam: I know it is hard shining behind my light as the favorite child, but someone has to do it. Right? But in all seriousness, thank you both for being the best sisters anyone in the world could have asked for. I am so grateful for the both of you and you both have inspired me to do what I love. Thank you for being my biggest supporters, and for always having my back. I would not be where I am today, if it was not for the both of you. Thank you and I love you both wholeheartedly.
Professor Morano: You are the first professor to have ever pushed me to be the best version of myself, and for that I thank you. You have shown me how powerful my words can be and that I can make my mark if I just do the work and believe myself. Every lesson in all of the classes that I have taken from you, will be ingrained in me forever. You have taught me more than anyone else ever has in school, and I appreciate you more than you will ever know. Thank you for everything you have done for all journalism students at Monmouth and for giving them a voice. Even me.
Professor Novek: You have made me a better writer and thank you for everything you have taught me. I am so grateful to have learned from you. I admire you for everything you stand for and believe in and it makes me happy to know there are people like you out in the world. Thank you.
The Outlook Staff: Well, where would I be without all of you? I don't even want to know, because being in this amazing newspaper with all of you amazing writers has been a blast. Thank you for always being there, for not only me, but for one another too. It was so comforting to always come to any of you for all of the love that you have all gave me. Meg: you taught me everything I needed to know for the politics section. If it wasn't for you, there would be no section this year. Thank you. Matt: Thank you for your kindness and always believing in me. I only known you for a short period of time, but you have been nothing but amazing to me. I am so excited to see what you do in the future. I know they will be great thing. Alex: You are another person who has shown me the ropes when I got here. Thank you for always giving me a helping hand, and for being nothing but pure sweetness. Danielle: Thank you for constantly helping me with your edits and advice. You have helped me become a better writer and you are such a big part at The Outlook. Melissa: Thank you for constantly dealing with me and my anxiety. Thank you for showing me what a true leader is, and how to think outside the box. You have been a rock to The Outlook. Thank you for everything, you're so loved and appreciated by us all.
Hawk TV: I have not been at Hawk TV for the longest time, but it has been such a great time. Thank you all for your positivity and creativity. I thank you all for welcoming me with such open arms and for being all such incredible human beings.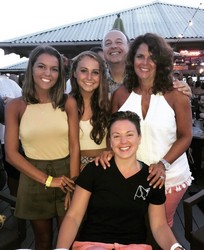 Sean Gerhard: Hey buddy. Thank you for adopting me at Hawk TV and teaching me more about media and how to get involved there. I appreciate everything that you have taught me. Thank you for being such a kind soul, and I am happy to have worked with you at my time here at Monmouth. Also, thank you for not firing me.
Sarah and Kristen: It's the Powerpuff Girls here! You both have been my rocks here at Monmouth since I arrived last fall. You have made my time here so fun and so memorable. Thank you for dealing with me on a daily basis, I know that can be tiring. Thank you for being yourselves and showing me the truth of real friendship. I love you both from the bottom of my heart.
TJ Foley: Well look who we have here. Thank you for everything, and for being my friend above everything else. You have pushed me so much and helped me get where I am today. Thank you.
To My Shore Family: You all know who you are. Thank you for all the love you have given me and for every special memory we have shared. I love you all to the beach and back.
MU Com Department: Thank you to all of the professors for everything you do for us. Your work is so valued and appreciated.
PHOTOS COURTESY of Georgeanne Nigro