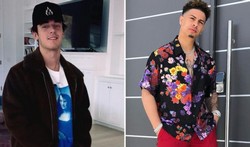 It's the battle of the century. TikTok or YouTube: who will win?
During quarantine in early 2020, TikTok became the platform everyone wanted to be on, seemingly replacing YouTube as the video app of choice. Everyone was dancing to songs ranging from "Savage Love" all the way to "Blinding Lights" by the Weeknd.
Fast-forward a year, and there have been countless people who have become famous due to the popularity and accessibility of this platform. However, YouTubers are not giving up so easily as they hope to win in this battle.
In a series of boxing matches, the strength of TikTokers will be pitted against that of their YouTube counterparts.
This event is being advertised as "The Battle of Platforms;" headlining the series of fights will be a match between YouTuber Austin McBroom and TikTok star Bryce Hall.
Austin McBroom, 28, is the founder of the Ace Family Channel with 19 million subscribers. The content produced by Austin, along his wife Catherine, is more family-related. They are not only YouTubers, but they have businesses that they run separately and as a family.
Bryce Hall, 21, became popular first on TikTok's predecessor Musical.ly, as well as YouTube, before becoming a big TikTok star. The social media star has over 19.7 million followers on his main TikTok account.
McBroom has been challenging Hall over social media to fight him since Dec. 2020. They have been feuding for months, with McBroom finally challenging Hall to test his tough-guy persona in front of the cameras.
On March 10, Hall responded to a comment of McBroom's, saying, "You're 30, bro…You're acting like a high schooler right now."
After the match was confirmed, on March 18 Bryce Hall posted on Instagram, saying "TikTokkers about to embarrass the YouTubers real quick." Hall accepted a five million dollar deal in order to fight the YouTube star.
Neither YouTube or TikTok has commented in regards to the event, and they are not associated with or endorsing the event at all.
Not only are McBroom and Hall fighting, but there are other TikTokers and YouTubers joining the showdown.
The matches include: Tanner Fox (YouTube) vs. Nick Austin (Tik Tok), Faze Jarvis (YouTube) vs. Michael Le (TikTok), DDG (YouTube) vs Nate Wyatt (TikTok), Deji (YouTube) vs Vinnie Hacker (TikTok). YouTuber Danny Duncan and TikToker Taylor Holder will be facing off against two others that will be picked by the audience. The way these two individuals will be chosen has not yet been determined.
Fans will be able to experience the epic battle beginning June 5 via LivexLive, a streaming platform that covers music, podcasts, and videos. It will be available via pay-per-view. The schedule for each match has not been revealed yet.
LivexLive chairman Robert Ellin said, "This event is a perfect storm of celebrity, social media, technology, digital marketing, pop culture, and, at the end of the day, good old Hollywood 101 celebrity and industry magic. Every component of this singular moment is architected to be a larger-than-life spectacle and drive viewers across the planet through all social media platforms. Every model that we're seeing is tracking this to be the largest PPV event in history."
This event is deemed for entertainment purposes only and has brought up many reactions from the fans. According to Fight Sports, "Those in favor of it say that this will simply bring in new eyeballs to the sport and potentially more revenue. Those who oppose it cite the lack of combat sports experience that can lead to someone getting seriously hurt, along with potentially degrading the integrity of the sweet science."
Which platform is your favorite? Who will win? YouTube or TikTok? Only time will tell!
IMAGE TAKEN from Distractify