When I was seven years old, I had my lifelong dream figured out: I wanted to be a writer. I can proudly say that dream has come true.
I began writing for The Outlook the second week of freshman year and quickly became a staff writer. I was promoted to features editor my junior year, and became Editor-in-Chief my senior year. Now, at the time we're publishing the last issue of the year, I have more than a hundred Outlook articles under my belt.
I picked up a journalism minor my sophomore year. At this time, I didn't know as much about journalism as I do now. I was struggling to put articles together—it would take me hours to write a story that I would now complete in no time. I contemplated dropping my journalism minor; I thought I wasn't good enough for it. But I worked at it; I kept writing stories every week, I improved. Now, I realize that quitting would have been my biggest regret.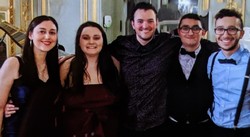 I wouldn't be where I am today without The Outlook. Before I came to Monmouth, I never even considered journalism as a career or an area of study. However, I wanted to pursue extracurricular writing opportunities, so when the TA in one of my classes freshman year mentioned that she was the Editor-in-Chief, I told her I was interested. That day, I bravely walked into the Outlook doors for the first time without knowing anyone. I took a tour of the newsroom, filled out an interest form, and three years later I became the leader of the newspaper.
Because of my experience at The Outlook, I scored an internship at the Asbury Park Press last summer. It was such a unique experience—not only because I was able to write for one of the biggest newspapers in the state, but also because I worked remotely during the COVID-19 pandemic. At the Asbury Park Press, I wrote about the current events that defined 2020, most notably the pandemic. With journalism, writing has a purpose.Being Features Editor for the past two years has been such a rewarding experience. I discovered that it's my favorite type of journalism; I love having the opportunity to learn, write, and publish people's unique stories. Writing human interest and profile articles is where my creativity really shines.
I'll miss the Tuesday night grinds in the newsroom, the trips to Plangere Café, and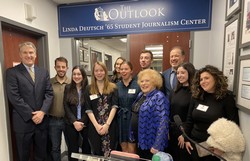 overall just having a good time with my fellow editors. But, the memories will still remain. The Outlook has defined my college career.
In fact, journalism thrust me out of my comfort zone. Before college, I used to be quiet and shy in public. Conducting interviews with students and professors honed my oral communication skills. It allowed me to grow into an outgoing journalist, making it easier to make new friends and connections.
I was in the newsroom, getting ready for the next issue, in March 2020 when the University received notice that we were having an extended spring break due to the COVID-19 pandemic. From that point on, The Outlook staff has been producing the newspaper remotely every week. Being an Editor-in-Chief during the pandemic was no easy feat, but I'm proud of the work I put into The Outlook every single week. Writing for features, news, and entertainment all while leading a team of editors, conducting weekly meetings, and making sure every page is perfect for publication, this has been the toughest—yet most rewarding—year of my college career.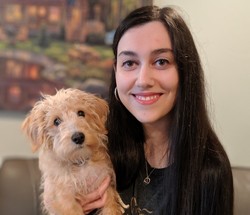 I reached many milestones in college aside from becoming Editor-in-Chief of The Outlook and interning for an esteemed local paper. In April 2018, at the end of my freshman year, I self-published a young adult novel titled The Uncommon. At this point, my dream of becoming an author has finally come true. Aside from working in journalism, I plan to keep publishing books in the future.
Thank you to my friends, who have single-handedly shaped my college experience. Hanging out, laughing, and studying in the student center for hours at a time with iced coffees from Dunkin is one of my favorite college memories. I'll miss attending the Winter Ball every February, dancing altogether, forgetting about homework just for one Saturday evening, and watching the snow fall outside the Great Hall like a scene from a movie. I want to thank my family, my parents and my brother Justin (AKA my roommates), who have supported me nonstop and have always made it known how proud they are of me. Special thank you to my mom, who encouraged me to write for The Outlook. I don't know where I'd be without you.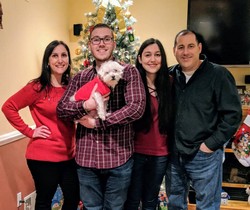 Thank you to my fellow Outlook editors. We are such a well-oiled machine, even during a pandemic. I am extremely proud of us for pumping out an issue—both print and online—every week at a time when the whole world was put on pause. Matt and Danielle, thank you for staying up until midnight with me every Monday and Tuesday to make sure we put out near-perfect issues each Wednesday.
Thank you to Professor John Morano, who will be leaving The Outlook as faculty advisor after 33 years. You have been my greatest mentor at Monmouth, and I am honored to be the last Editor-in-Chief you work with. Almost everything I learned in journalism, I learned from you. A couple years down the road, when I'm working full-time as a journalist, I'll constantly be hearing your "Morano-isms" in my head. Your guidance and mentorship will always stick with me.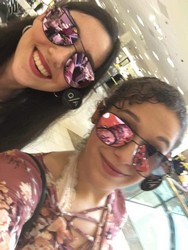 During college, I sprouted into an outgoing, skilled journalist. My advice to all underclassmen is to get involved, if you aren't already, in a club or organization that interests you. It will change your life, just like The Outlook changed mine. Decades from now, I will look back at all my articles from The Outlook and smile—at the experience, the memories, the thousands of words I've written for this student-run newspaper. This is not a goodbye, but a "see you later." Although I will be passing on the Editor-in-Chief torch, I will be returning as a graduate student next year as I pursue my MA in English with a concentration in creative writing.
PHOTOS COURTESY of Melissa Badamo