Paranormalist Tells Her Experiences to Over 250 People in Wilson Hall
---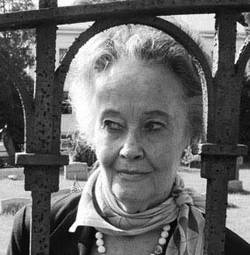 It is that time of year again. With Halloween only a few weeks away, the hot topics are all things spooky and scary. Ghosts, demons and things that go bump in the night are out to scare the unsuspecting. One woman witnessed firsthand the frightening side of the paranormal and shared her experiences with students.
Lorraine Warren, a medium and paranormal investigator, spoke to an audience of over 250 people at Wilson Hall Auditorium on Saturday, October 1 at 8:00 pm.
Accompanied by her son-in-law and fellow paranormal investigator, Tony Spera, the two shared videos and photographs with the audience and talked about some of the cases Warren has investigated.
The most well-known case were the murders that took place in Amityville, New York. On November 13, 1974 at 3:15 am, Ronald DeFeo Jr. murdered his entire family including his parents and four siblings.
After the murders, George Lutz and his family moved into the house and spent 28 days there until they fled and never returned. The Warrens were called in to investigate the paranormal activity taking place at the house. Along with her late husband Ed Warren, the couple went to the house at 112 Ocean Avenue which Warren described as "terrifying." In one of the videos discussing the investigation, Warren said, "I hope this is as close to hell as I'll ever get."
When the Warrens returned home after investigating the Amityville home, they both settled in to go to bed. Warren said she heard loud banging and footsteps coming up the stairs, then "a massive black thing actually manifested." Both her and her husband came under an identical attack, and have not gone back to the Amityville house since.
"Mrs. Warren can see, hear and feel the things that we can't," Spera said. "She sees them psychically. When she walks into a home or dwelling or building like this, she can tell by that supernatural ability she has if there is actually a spirit in the room."
For 60 years Warren has used her abilities to help people experiencing paranormal activity in their homes.
"Ghosts and demons transcend the boundaries of faith," Warren said. A religious woman, she said her faith is her protection and drive. She and her husband offered their assistance requesting only that their travel expenses be covered. She said she was given a gift allowing her to help others and it should not be exploited for money.
The couple made a living by lecturing around the country and contributing to several books.
Kody Castor, a junior at the University, attended the event and is a fan of the television show "Paranormal State", which features Warren as a consultant on several investigations. "I was so excited when she came here," she said. "I think it's pretty incredible she can just tune in to certain things that other people can't."
Warren explained to the audience, "The real bad things come as a result of doors being opened." She added that Ouija boards play the biggest role in opening doors and to never use them. Some of her worst cases had come from using these boards and one should dispose of the board and bury it.
"People that never have experienced the supernatural or the preternatural find it very difficult to believe that things of this nature occur," Warren said. "But they occur very, very often. The only way to get rid of it is through, sometimes, an exorcism."
Warren's role in investigations is to determine if there is a presence, what type of presence and whether it is a human spirit or an inhuman entity. It is up to an ordained clergy to perform the necessary exorcism to cleanse the house of the negative presence.
She also suggests asking for God's protection and envisioning being surrounded by a white light.
Audience member Michele Koch, who has had her own share of psychic experiences, jumped at the chance to see Warren's lecture. "It was an honor to be in her presence. The wisdom she exudes from all of her experiences was so remarkable," Koch said. "Lorraine and Ed are really historical figures, considering their work with the Amityville house."
Warren and Spera shared four videos and an array of photographic slides showing the audience proof of the supernatural. Several photos included people that have passed away and showed up in a photograph. One woman who had killed her baby and then herself appeared in the background of a photo. She was positioned holding her baby and sitting in a chair that was not really there.
Another photo showed the clearly visible face of a woman known as the "white lady" who haunts a Connecticut cemetery.
A week after the September 11 attack on the World Trade Center, a photo was taken of ground zero depicting the aura of the trade center as a red shadow in the sky.
The audience also had the opportunity to see the only photos taken of the interior of the Amityville house. One of the photos, taken a year after the murders, showed the ghost of a boy's head peeking out above the stairway railing.
Warren continues to actively work on cases and hold lectures. She recently signed a contract for a movie titled "The Conjuring" that depicts the story of an investigation she worked on in the late 1980's. The case involved a bewitched farmhouse and is supposed to begin filming in the next 12 months.
To learn more about Warren and her career visit her Web site at edandlorrainewarren.com or The New England Society for Psychic Research at www.warrens.net.
PHOTO COURTESY of Megan McGowan