At Recent Tournament, Hawks Defeat Reigning National Champion
---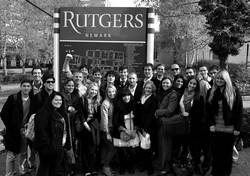 The Monmouth University Debate Hawks have quickly gained the attention of the national debate community. This season has been extremely successful for the Debate Hawks as they defeated reigning national champions Liberty University at the Rutgers Newark debate tournament back in November. The win was further noteworthy because it took place in a playoff round, and was also the first time in school history that a Monmouth team defeated Liberty. In addition to Liberty, Monmouth has racked up wins against national powerhouse debate programs such as Cornell University, NYU, U.S. Military Academy, U.S. Naval Academy and Dartmouth.
In addition to these wins, Monmouth has had four teams make it to playoff rounds at each of the three tournaments they have attended this year, a major accomplishment for a program which was nonexistent just a few short years ago. At the most recent tournament at Cornell University, four teams made it to the playoffs. These debaters were Jen Sime and Lianne Kulik, Mark Cosentino and Andrew Bell, Miriam Peguero and Olivia Mills and Lexi Todd and Dan Roman. Lexi Todd brought home a trophy for being the eighth best speaker at the tournament.
The team not only wins, but it also gives back to the community. Thanks in part to a grant from TD Bank, Dr. Joseph Patten, Chair of the Political Science Department and Debate Hawks coach has helped the debate team start a program at Asbury Park High School. As a part of the Urban Debate League, the debate
Bishops from Asbury Park won a tournament in Baltimore last year, the first year of the debate team. Most importantly is the fact that every senior member of the debate team in Asbury went to the college last year.
The Monmouth team hosted a tournament here on campus on January 21 – 22. The tournament ended up being the fourth biggest tournament in the country with more than 70 teams and 250 people showing up to the Jersey Shore. Teams attending the tournament spoke about it being the best tournament they attended the whole year. In fact, the tournament was run so well that Monmouth has been asked to host the district championship next year, a tournament where over 20 schools compete to try to make it to the national championships. This is an honor for any team in the country to be asked to host a tournament of this magnitude.
Patten continues to get new people to join. He does this by recruiting from the Political Science classes he teaches and by asking just about any student he sees to join the team.
Patten says, "The Debate team is garnering a lot of interest lately by students and faculty. People always come up to me to congratulate me on the latest tournament results and it's really special considering the position we were in not long ago where we had no funding." The team is constantly growing with 36 members currently on the roster and many others on a waiting list to join the class in the fall, which teaches students the many intricacies of policy debate. Debate team co-captain and senior Brandon Karkovice adds, "As a freshman, I can remember being a nervous, worried, and a shy boy that was hesitant to join the team. I can say now, as a motivated, mature, self-disciplined young man, it was the best decision I could have ever made. The team itself has grown so much since its birth as a small team. From expanding in its numbers within Monmouth University, to expanding its' community reach to Asbury Park."
If you ask anyone who has ever debated they can tell you that debate is an academic sport. With rounds sometimes lasting as long as two hours, teams who make it far into the playoffs will debate nine or 10 rounds in one weekend. That is 20 hours of intense work for just one tournament. Debate is something that will change student's lives. Co-captain of the debate team and senior Arielle Giordano says, "Being a part of the Monmouth University Debate team is the single best decision I made throughout my college career, you aren't just a member of a club or a team, but you become a part of a family."
The team has already set a goal of making it into the top 25 in the nation next year. In order to make it into the top 25 teams score points according to how far into playoffs they make it and how many teams are in the playoffs. Monmouth currently is averaging 43 points per tournament but has only been able to attend three tournaments this year. The National Debate Tournament rankings take into account the top six tournaments for each school, putting Monmouth at a disadvantage. If Monmouth were able to go to six tournaments, which they are hoping to next year, by averaging 43 points per tournament, they will easily make it into the top 25 nationally.
PHOTO COURTESY of Arielle Giordano