Alpha Sigma Tau Hosted "Pie a Greek or Professor" to Help Sandy Victims
---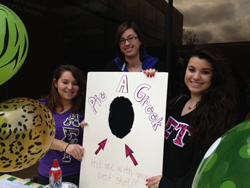 The sisters of Alpha Sigma Tau hosted Pie a Greek or Professor on Thursday, November 15 outside of the Student Center in an effort to raise money for Hurricane Sandy Relief.
The event allowed for students and faculty to have fun while raising money for a good cause. It cost $2 to pie someone and other donations were welcomed. This was the first time AST hosted this event and were very pleased with the turnout, which was primarily promoted through a Facebook event page. Active sister Jenna Ferraro, a sophomore and criminal justice major, organized Pie a Greek or Professor. Ferraro said, "The turnout of the event was great. A lot of students made donations, and a lot of people from various Greek organizations and professors participated. I was extremely happy with the event."
All together, AST raised $270 which was donated to the Student Government Association that sends the money to two charities that help families in New Jersey affected by Hurricane Sandy.
Originally, the event was scheduled to raise money for the Ashley Lauren Foundation, which helps aid New Jersey families with children battling cancer. The sisters of Alpha Sigma Tau changed the event to support those affected by Hurricane Sandy, as many other organizations had decided to do as well.
Jennifer Kellerman, senior and sister of AST said, "We felt it was the right thing to do to send the proceeds of our event to Sandy Relief. We even had sisters affected by the storm and thought we should help out."
They had many volunteers sign up to be pied. Volunteers from Greek organizations such as Delta Phi Epsilon, Tau Kappa Epsilon, Sigma Tau Gamma, Phi Kappa Psi, and Alpha Kappa Psi signed up to support this cause. Some professors also signed up to help out with this great cause. These professors were John Tiedemann, Assistant Dean of the School of Science, Pedram Daneshgar, Assistant Professor in the School of Science, and Dana Ehret, Lecturer from the Biology Department.
Ferraro said, "The volunteers getting pied liked the event. Especially because it was for a good cause and the event was pretty fun."
Eva Rosamilia, junior and member of Delta Phi Epsilon, signed up to volunteer as a pie target at their event. Rosamilia said, "I like getting involved in other organizations' events. It's a lot of fun to do. This event was especially fun though because we were helping out our own community as well as friends and family who lost their homes during this storm. The event was a great idea."
Many organizations and clubs have donated time and money to help those in need after the storm that hit New Jersey in late October. There are many ways to get involved. Ferraro gave advice for students and faculty looking for more ways to help out with this cause. She said, "Students can help donate through other events going on around campus or donating money online. If you check Monmouth's website under Student Government Associations' Hawks Fly Together for Relief, you can see other scheduled events that are helping out Hurricane Sandy victims." As of November 17, SGA announced through their Hurricane Sandy relief Facebook Page that the University raised close to $900 so far.
Students looking to volunteer to directly help families who have been displaced can do so within Monmouth County. Monmouth Park Racetrack is currently a shelter for families who have been displaced by the storm. Volunteers can donate their time to help families that are moving into new homes or cleaning what has been destroyed.
The sisters of Alpha Sigma Tau and volunteers at the event were pleased with the turnout and donations they received. Ferraro said, "It was awesome that the Monmouth community was able to come together to raise money for victims of Hurricane Sandy."
PHOTO COURTESY of Danielle Ferris