Simple Steps for Renting an Off-Campus Apartment
---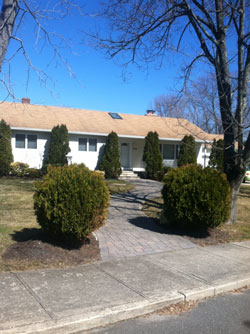 Apartment searching as an up­perclassman or a student who has just graduated can be very intimidating if you haven't done so before. If you intend to live off campus your junior and senior year, when should you start look­ing around the area? Who should you contact? What are your biggest deal breakers in your home away from home?
Junior social work major Savan­nah Werner explained her process in searching for an off-campus house. She said, "The biggest pri­ority for me and my three room­mates was clean bathrooms; pref­erably newer ones." Werner and her roommates looked at ten dif­ferent properties before choosing their rental in Oakhurst.
While others may be concerned with details like security, loca­tion and amenities, Werner and her roommates understood that the nicer the rental the more ex­pensive the rent and collectively she and her roommates are pay­ing close to $1,800.00 a month for their college house, not including utilities.
Other areas of importance in­clude understanding the risks of living on your own and being re­sponsible for things such as trash removal, lawn care and dish duty.
Senior communication major Joseph Demarzio currently lives off campus with three other stu­dents. He said, "The best part about living off campus is the overall responsibility you gain by cooking, cleaning and paying bills all on your own."
While some students may find things like this tedious, many like Demarzio prefer the inde­pendence of living on your own without the full time support of cleaning crews, maintenance and security staff.
Director of Off-Campus and Commuter Services, Vaughn Clay said, "Living off-campus can teach students skills such self-reliance, independence, budget­ing, communication, citizenship and cooperation."
If the idea of greater indepen­dence and responsibility is appeal­ing to you, then searching for a rent­al would be the next step.
Clay said, "Before students begin calling realtors, landlords or apart­ment companies they need to get organized. Determine how many people plan to share the rental. Fig­ure out where (the town) you or the group would like to live and deter­mine how much each roommate can really afford to pay each month."
When doing research it is helpful to scope the rental market on tools such as the University's Off-Cam­pus Housing website, www.mon­mouth.och101.com.
The site features apartments and homes in surrounding areas like West Long Branch, Ocean Town­ship and Eatontown. Many students in the past have also contacted Beba Realty and G&G Realty, both locat­ed on Norwood Avenue in Deal to find a winter rental.
A rental in Monmouth County ranges from $900-$3,600 a month depending on how many people will occupy the residence. Respec­tively, students are typically paying anywhere between $400-700 per month in a share. Understanding the finances it takes to rent a property is one of the most important parts to this search.
Some students prefer location to be their deciding factor. Whether students need to be within walking distance to the West End bars, their jobs or to stay away from Ocean Township district which is notorious for its strict intolerance to underage drinking and noise violations, the location of the rental varies per per­son or group.
When searching for a rental on­line or in person, be sure to keep a pro and con list and take pictures in order to help you compare and ultimately decide which housing ar­rangement best fits your needs.
"All of the houses started to blend together after going on so many tours with our realtor," said Werner.
It's easy to forget which house had what features, so keep track with notes and visuals in order to prevent a blurry recollection of toured rentals.
"When you visit the rental, really inspect it to make sure that it is go­ing to be the right fit for you or the group," says Clay.
It's easy to overlook small details such as minor holes in the ceiling, limited parking or faulty locks, but these could be very important if you do decide to move into that particu­lar place.
Because Monmouth County is best known for its summer tourism, it is a lot more attainable to rent dur­ing the winter months of September- May, but it's always best to start your search earlier rather than later. Most students even start the process seven months before they intend to move in.
After you have done the field re­search and made a decision on a rental, be sure to always review your lease with parents or advisors. The rental may be contingent on surprise Saturday morning showings by your realtor or the neighborhood may be against late night commotion.
Communication is key in this ar­rangement. Clay said, "When com­munication is limited, then it is not uncommon for my office to receive roommate complaints, problems in dealing with landlords/realtors, as well as concerns from neighbors about a specific student rental."
Always be sure to ask your real­tor/landlord as many questions you can think of before signing and committing to a lease agreement.
With a little luck and some ex­ploring, obtaining a rental property will be another stepping stone into adulthood and an official sayonara to dorm life.
PHOTO TAKEN by Melanie Ratajczak