The University has such a wide spread community that gives commuters just as many opportunities as residents. The only difference is the distance that one has to travel to make it here. Some say it is worth it, and others say they would never even consider it.
Commuting to any school is a challenge, whether it's driving an hour every day, five days a week or looking for a parking spot for sometimes 20 minutes. However, even with all of the different schedules that commuters and residents have at the University, on campus all students are united and share common interests and goals.
Vaughn Clay, Director of Off-Campus and Commuter Services, said, "Commuter and off-campus students can take advantage of a number of the opportunities that resident students may access. However, the fact that they are commuting from a home or local address will always introduce a level of difference between resident and commuter students." He added that family and responsibilities at home affet the extent to which commuter students are involved on campus.
Marco Ferraro is a first year student but is in his third year of college. With a commute from Matawan, New Jersey, Ferraro said he "leaves an hour early every day so that I can beat the traffic and relax before class."
On a good day it takes him about 20 to 25 minutes to get to the University, while on days with a lot of traffic it takes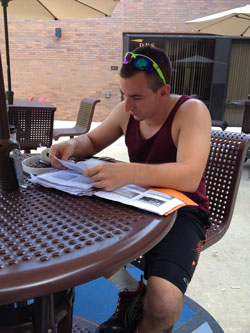 him 30 to 35 minutes. However, he does not complain about the traffic because leaving an hour before his first class begins gives him a perfect opportunity to listen to music in his car and not have to rush to school. Still, Ferraro struggles with trying to balance his schedule with classes and club events along with his on campus job working at athletic event staff.
With this being Ferraro's first year at the University, he already decided that he really likes the school due to its fun and beautiful atmosphere. Also, he has met a lot of friends and looks forward to meeting more friends while maintaining good grades and getting even more involved on campus.
Meghan Gibson and Denisse Amrilla, both juniors, live off campus together in West Long Branch with five other girls. They both are extremely happy and eager to live off campus this year for the first time. However, even though they live just under five minutes away from school, there is a lot of work that comes with living in a non-residential house.
One of the hardest things that all seven girls struggle with is the arrangement of cars in the driveway. Seven cars in one driveway with girls who leave for class at all different times is a challenge.
Gibson said she enjoys "having my own kitchen so that I could cook what I want to eat and when it's most convenient for me."
Both of the housemates agreed that they spend most of their free time on campus in the Rebecca Stafford Student Center.
Junior Maxwell Kenney gets the privilege to live off campus, but spends three of his nights on campus working for residential life as a desk assistant. With living off campus Kenney expressed that he needs to work to pay for expenses that one would not pay for on campus such as utilities and groceries.
Kenny said having an off campus home has its benefits. He loves having his own bedroom and bathroom so that he can make his own schedule every day and not worry about conflicting with anyone else.
"Being in TKE, it gives me more opportunities to not only meet a whole bunch of people, but to spend more time on campus and become involved in the Monmouth University community," said Kenney.
Clearly, living off campus and commuting has its ups and downs. However, whether students are commuting or living on campus, the University gives its students such great opportunities to connect with one another and feel united. Hawks truly do fly together.
PHOTOS TAKEN by Bryan Epstein