A Call to Arms to Prevent Veteran Homelessness in the U.S.
---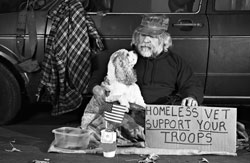 As fall transitions into winter, the mornings start to grow colder. The once verdant green leaves dwindle away and the light of day quickly descends into darkness. For thousands of people living on the east coast, nature's most beautiful moments are captured during this season.
For former Private Lenny Johnson, however, winter means combing the streets for a warmer jacket, a heavier sleeping bag or blanket to sleep with and a safer, quieter place to rest his head,
While we find the first frost to be quite the inconvenience when we go to start our cars on early December mornings, Johnson sees frost as a vivid reminder of winters spent shivering under the Route 80 overpass in Paterson, NJ, a place he has called home for over 12 years.
Instead of waking up in a warm, comfortable bed each morning, Johnson wakes up at dawn to the sound of cars and trucks whirring above his head while he struggles to regain warmth and solace in the confines of his torn and tattered blanket.
At any moment, the sound of screeching tires, the backfire of an engine, could send the 101st Airborne "Screaming Eagle" veteran into a flashback.
The slightest sound of traffic echoes loudly against the dull concrete of the overpass, serving as a haunting reminder of Johnson's time spent overseas fighting in the Vietnam War. Johnson served in the U.S. Army for over 30 years and belonged to the last infantry division to leave Vietnam when the war ended in 1975.
Streets, alleys, parks and overpasses like the one Johnson lives under, have become home to many thousands of homeless veterans – men and women who have been forced to fend for themselves day and night without a roof over their heads.
There are nearly 1.4 million United States veterans and their families currently living on the streets, according to the Department of Housing and Urban Development (HUD).
Thousands of these veterans are chronically condemned to lives without a stable source of income or home life because of injuries they sustained during their service. Many, like Johnson, suffer from terrible psychiatric conditions, like post-traumatic stress disorder and paranoid schizophrenia. These wounds of war are physically invisible, but they are no less life threatening.
Despite government efforts to curtail veteran homelessness, such as the Rehabilitation Act of 1973, the problem has unfortunately had few solutions. Without secure housing, these vets simply cannot benefit from the small amount of services available to them and are instead forced to face the consequences.
Are you familiar with the expression "never leave a fallen brother behind?" Army Specialist (SPC) Joseph Wingate, an Afghanistan war veteran and Pompton Lakes, NJ native, asked me. "Veteran homelessness is the equivalent of leaving my fellow brother or sister on the battlefield, and it makes me sick to see that so little is being done to prevent it," he said.
Joseph Wingate's wife, Krista Wingate was long-awaiting her husband's arrival home from Afghanistan last month after he had been away for almost 10 months.
While Krista Wingate walks through her neighborhood just outside of Fort Bliss Army Base in El Paso, TX, she explained that it's not uncommon to see homeless veterans living on the streets holding signs that say things like "vet in need" or "help a vet, anything will do."
Krista Wingate said, "It makes me wonder what our government does, if anything, to help our soldiers who come back from overseas and are trying to transition back into normal life."
Quick to beat our chests and wave our flag, Americans today claim to "support our troops," but do little to stand up for the rights of those soldiers who have already fought the perilous fight and have returned home. Unfortunately our country has failed to in-turn fight for veterans' basic needs for survival.
It's about time we come to their aid, like so many thousands of veterans have come to ours for so many decades. Our brave men and women in uniform have sacrificed so much protecting our country and deserve every available resource as they return to civilian life.
It is important that we cherish our nation's veterans all the time aside from Nov. 11. Volunteer at a soup kitchen. Donate some clothing. Most of all, pay attention and respect to the thousands of American soldiers who have risked their lives to protect yours each and every day.
PHOTO TAKEN from getrambled.com