The University Debate team coached the Asbury Park debate team to a 4th place award at a debate tournament at the Institute for Collaborative Education in New York City this weekend. The Asbury team was coached after school every Tuesday afternoon by MU debaters Dan Roman, Kelly Craig, Sam Maynard, Jessica Roberts, Dylan Maynard, Ryan Kelly, Danielle Doud, Angela Ryan, Michelle Grushko, Saliha Younas, Monica Santos, Michael Hamilton, and Nick Whittaker. The MU debaters took the Asbury debaters to three weekend tournaments affiliated with New York's Urban Debate League this year, but the third proved to be the charm as this was the first time the Asbury team made into the playoff rounds. The Asbury team of Amaris Williams and Sharif James took a 4th place trophy after being coached throughout the year by MU debaters Kelly Craig and Dylan Maynard. Amaris Williams also took a 5th place individual speaking award.
Kelly Craig was recently accepted in to the political science graduate program at American University in Washington D.C. and Dylan Maynard will be attending law school at American University in DC after graduating from Monmouth this spring.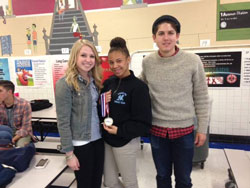 The Asbury team debated whether the United States should end the economic embargo on Cuba. The Asbury teams included Lisa Miranda and Brian Miranda, Julio Gonzalez and Diana Massa, William Wells and Sal Swain, Reggie McNeil and Jazira Robinson, Amaris Williams and Sharif James, Adria Barksdale and Josue Williams, Siana Portlock and Siera Foster, and Omar Lopez and Dawren Ruiz. Ms. Christine DeMarsico, an English teacher at Asbury, also helps coach the Asbury team.
The Monmouth-Asbury debate partnership is made possible by a grant from TD Bank and Santander Bank.
Please contact Professor Joe Patten at jpatten@monmouth.edu if you are interested in learning more about the debate team.
PHOTOS COURTESY of Joe Patten