When it comes to alternative, punk, pop-punk and other subgenres of rock music, fans are diehard. These people, who have formed their own culture, come together for a common cause: to support their favorite bands, who some fans claim have done as much as saved their lives through music. With fans so invested in this music and the performers within it, every headline in Alternative Press is breaking news: new albums, record deals, tour dates, break ups.
It's a visceral experience for fans when their favorite band calls it quits. Their entire time spent with that genre of music that they have essentially lived by and grown with is forever influenced. For some, you can equate it with losing a loved one: you'll think of that show where you caught the lead singer's guitar pick, the meet-and-greet you paid an entire summer's savings for, the song that got you through those tough times during your angst-y teen years, but repeating those experiences suddenly becomes impossible.
Just last year, NJ-native alternative rock band My Chemical Romance (MCR) announced that they would break up after 12 years of making music together. It was a devastating blow for MCR junkies to hear the band's famous last words, "We've gotten to go places we never knew we would. We've been able to see and experience things we never imagined possible. … And now, like all great things, it has come time for it to end. Thanks for all of your support and for being part of the adventure."
These words were posted on their website nearly a year ago, but many fans and followers are still reeling from them. "My Chemical Romance got me through a lot of dark times," said Jess Johnson, a Brookdale Community College student. "Their words seemed dark, but there was an underlying light to them. Sometimes it was morbid and beautiful." Now, a year later, MCR released a final album of their greatest hits as well as some unreleased material titled "May Death Never Stop You." Then it's so long and good night to MCR.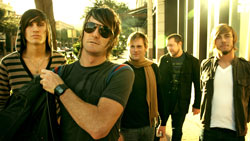 Of course, band break ups are nothing new. Musicians have been breaking the hearts of their fans since the age of The Beatles. Joe Rapolla, Chair of the Music and Theatre Arts Department, recalls the uproar of disappointed fans after the announcement. "I, of course, was very young, but at the time that was very big news and devastating to millions who couldn't relate to something like this happening," said Rapolla. "Many people felt such a connection to the Beatles and couldn't understand what they would want to end something that was so good. But after a while the shock fades and people learn to cherish the magic that was created."
Don't panic, however, if your favorite band decides to stop making music. It doesn't always lead to their imminent death. Take rock band Breaking Benjamin for example: Frontman Benjamin Burnley ditched his guitarist and bassist in 2011 after an argument about a remix of one of their songs to be released on their greatest hits album. Initially, the split seemed permanent.
Despite the ongoing issues within the band however, Burnley announced on Breaking Benjamin's website in 2013 that he had won the legal battle for the band's name and rights to their songs. Breaking Benjamin will continue on, minus former bassist and guitarist, and has hinted through photos on their social media that fans can expect either new music or a new tour in 2014. Though their future is uncertain, Breaking Benjamin is not broken.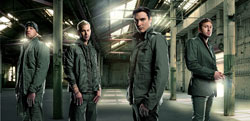 Watching a band go through the process of splitting up can be one of the hardest heartaches to bear. Instead of an immediate farewell announcement, some artists decide to drag it out and give their fans one last hoorah. Alternative rock band Anberlin decided to do just that this year, soon after they were announced for 2014's Van's Warped Tour lineup. The band posted a video on their website, explaining their decision and promising fans one more year of music and performances. In 2014 they will release a final album and tour the world one last time before ceasing to exist as a band.
Now, diehard Anberlin fans are crippled with the anxiety for the rest of 2014 that a band they followed so faithfully is ending, and they may not get a chance to see them during their year-long farewell. Though it will be a powerful celebration for the band, I would rather they just rip the Band-Aid off, not leaving fans with a dull, lingering pain.
However, if the longevity of a band has come to an end, most fans ask that they provide some kind of closure. Nothing is more mind-boggling, and sometimes disappointing, than when a band drops the dreaded term: hiatus. Most hiatuses are indefinite, meaning that a complete split is very likely, but it also leaves fans with the hope that they might someday return. The most infamous example of today's alternative rock era is Fall Out Boy, who, despite making straight forward statements that they would not be reuniting, came back with full force last year, having an album ready to release and performances already lined up. Fans were ecstatic, and the band has had more album sales now than ever before their hiatus.
Another highly anticipated reunion was announced in March by Fleetwood Mac. Beginning Sept. 30, the British rock band will be touring once again after a 16-year break. This ignited a surge of excitement from fans of the band's unique blues-rock sound. This tour is a welcome revival of music from past generations.
While some musicians who break from their bands are never heard from again, many of them go on to pursue solo projects. If a fan is truly dedicated to that artist's music, they will stay tuned, regardless of the band's divide. "Follow the musicians in the new paths they take. You may be surprised to find you like them in new groups," said Robert Boyd, adjunct of music and theatre arts. "A good example would be Sting. The Police were a super-group that had a great chemistry together but Sting also went on to create quite a prolific body of work."
Part of being a dedicated fan of any musical artist is knowing that nothing lasts forever. While we can't put the pieces of a broken band back together, we can soak up the nostalgia of what they left behind in a positive light. "Fans should just accept, and perhaps appreciate, that partnerships in art, like in business and relationships, do not need to be perpetual," said Rapolla. "That may actually be the beauty of it, and what makes it special. Accepting that may allow fans to appreciate the music that's been, or being made as a result of a momentary unity of creative talents."
PHOTOS TAKEN from thedailybantercom and fanart.tv