Warning: Heavy Sarcasm Ahead
---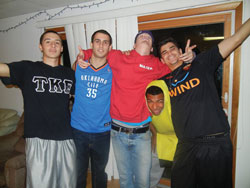 The word "mistake" has a highly negative connotation, but why? I look back on my life and I have made a boatload of mistakes and I plan to make more in the near future. Making bad decisions builds character, make for great memories and admit it, it's pretty fun.
My career here at Monmouth University, while extremely enriching, challenging and valuable, was a mistake. I was never destined to be a Hawk. It wasn't until about a week before freshman move in that I applied and was accepted to the University. Sure, I'll admit that I came here for all the wrong reasons that I'd rather not re-live, but I've made the most out of the mistake I made almost four years ago.
From being a freshman, wreaking havoc in the then brand new Mullaney Hall, to writing this outside, on the beach, I've made tremendous strides as a student and as a young man. There is no way that I would have done this on my own, so take this as my way to thank everyone who has contributed to my success over the years.
First and foremost I have to thank my friend, my voice of reason and my super-annoying roommate, Joseph T. Dellera. I'll say it, but I don't say it nearly enough as I should, so thank you, thy thigh master. I feel like it was just yesterday that we met at that party and now we've been living together for way too long. Yeah, it's true, there are times where I question my intelligence, your sanity and our friendship, but I know that deep down, I'll understand it all one day. Thanks for letting me eat your food, introducing me to baby wipes and justifying my actions to other people. You're one of the most genuine people I know, and I hope that after you finish law school, I won't need you as my legal defender, because I'm sure you'll charge me way too much.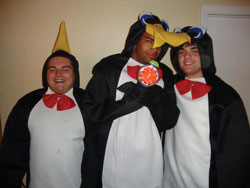 Since I thanked Joe who is a member of my fraternity, it would be unforgiving to not thank the rest of my brothers. So brothers of Kappa Kappa, I'm sure you're happy to see me go. I will no longer be an obnoxious, annoying headache, who is hell-bent on cursing you out, breaking or stealing your stuff when I come to visit. I know that I have been busy a lot of the time, but every moment I've spent with you was amazing. I wish I could say that I remembered them all, but that's what you guys are for, right?
Okay, now for the more important people. Shout out to the guys at McDonald's who hook me up with the $1 Big Macs all day long. Thank you for allowing me to purchase a Sweet Tea cup and fill it up with Coke. You guys saved me a lot of money. You have no idea.
Speaking of McDonald's, I can't forget about the late night drives there, way back when I used to have a dual residency at Birch Hall. Al, Kumar, Bogan, Boyle, Gaban, Marc, Brandon and the rest of you annoying people, I can't lie, you guys were some of the greatest people I've met at Monmouth. I know I wasn't a real member of Birch, but you welcomed me with open arms, allowed me to chill out, shoot billiards and move the vending machine around. I'll never forget those memories, and I'm sure you will never forget me either.
Besides beach appeal and impressive landscaping, one of the main reasons I decided on attending Monmouth was because I knew Aramark would always be there to fill my tank when I was running low. I would like to thank "Black" for cooking up a nice grilled chicken; man those always hit the spot. Your grilled cheese skills need some work, but boy, that chicken. I can't get over it. Carlos, I really think you should open up your own restaurant one day. You always have people lined up from the omelet station to the Great Lawn, we love you. Diamond, thank you for always smiling and keeping my days filled with joy. I always did love your sense of humor, especially your jokes while scanning ID cards.
I would also like to thank the entire Office of Student Activities and Involvement. As an employee of the office since freshman year, I have forged many relationships and memories. Even though the office is quiet at times, I know you are a rowdy bunch. Thank you, Jan, for offering your advice when it was needed and thinking of me when you presented me with an extra job opportunity earlier in the year. Thank you Betty for all that you do. As a former senator of SGA, I know your job is far from easy, but it's your love for the students, and the students' appreciation of you that keeps you going. Most of all, thank you Megan McGowan. Thank you for being the best boss possible. Thank you for for all of the verbal warnings, thank you for never answering your phone when the set-up crew needed you most, and thanks for having me spend my friday nights rolling around tables, stacking chairs and moving around that awful curtain. Oh, and thanks for the events that make Monmouth an exciting place to be, I guess.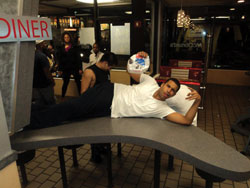 Last, but far from least, thank you to all of the professors that felt sorry enough for me to give me passing grades. I surely am not the brightest crayon in the box, so thank you for putting up with me. Although I share memories with all of the professors I've had throughout the years, there are two professors that have done a lot for me in such a short amount time. John Morano and Elanor Novek, you two have me kicking myself for not getting into journalism sooner. I can't properly express my gratitude and appreciation for the long talks, endless instruction and extremely helpful advice that you've given me up to this point. All I know how to say is thank you and I promise that graduation will not be the last time you hear my name. If I do ever make it big, just know that my inspiration had to come from somewhere and it was from the two of you. Also, thank you for being there for me at my lowest points, like when I arrive hours early for class with sob stories from the night before. I don't get too close with my professors but for some reason you guys are like my mom and dad (in the most non-weird or offensive way possible). I know that professors rarely get the recognition they deserve for all of the time and dedication they place on their students, so consider this my avenue of expressing my recognition. Keep being yourselves, its working.
To the entire 2013/14 Outlook staff, writing for The Outlook has been a challenging, but rewarding experience I wish never to repeat, but I will cherish all the memories that I have, especially those on production days. Honestly, even though I am the new guy, I feel as if I've been part of this family for years. However, I know that you guys are going to fall apart without me, because, lets face it; the newsroom is boring without me.
Here is a little something special to those I annoy more than usual:
Brianna, I know that I can be stubborn at times and that I typically have nothing nice to say, but I just want to say thank you for being a great mentor and an even better friend. The only reason I antagonize you is because I get a kick out of your amusing reactions. I might actually just miss the long, but somewhat meaningful conversations we have, the near genius headlines I come up with and all of those trips to Taco Bell. I dont know how you're going to fill the void next year, just dont call me, call Ghostbusters or something, ya dwe3b. Love Yeezus.
Angela, in the short time that we have known each other, I feel like we have become great pals. I know sometimes I can be extremely hard to work with, but in the end, I know you appreciate me. You said it yourself, you think very highly of me at times, ha. I will always remember you as the girl that persuaded me to never eat organically, always choose genetically modified foods at the supermarket and eat lots of meat. Peace.
Chris, I will miss commenting stupid stuff on your Facebook posts. Although I was less than helpful as a source to your stories, I always got a kick out of how witty I am. Consider yourself as my trial run to my future comedic career. Thanks.
Jackie, it's cool to have known you. It's kind of impressive that someone my age could be so much better than me at something. You'll do alright in life, I'm sure of it. I think you'll be a great mom too because your really stern. Like, really.
Sandie, I'm going to miss throwing pieces of the chair at you.
Casey, good luck next year. Just make sure you yell at people who don't follow directions like you yell at me.
Maggie, you're so weird. You're my fave.
Alyssa, goodbye. That's it.
I hate crying. What am I a two-year-old infant? No, but before this starts getting too mushy, lets get back to the notion of mistakes. There is no such thing as perfection and nobody can do everything right. We learn from every mistake we make and there is nothing wrong with that. The key to mistakes is not making the same mistake over and over, because that is just silly. To conclude, my final words printed in this publication will be those of Denzel Washington. He said, "The chances you take, the people you meet, the people you love, the fate that you have, that's what's going to define you…. Never be discouraged, never hold back, give everything you've got and when you fall throughout life… remember this: fall forward."