Companies Begin to Address the Lack of Female Entrepreneurs
---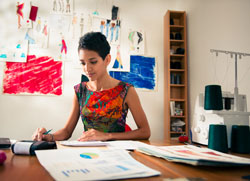 It's no secret that women have almost always been given the short end of the stick. They don't make as much money as men, childcare is expensive, and they are constantly fighting for the rights to their own bodies. Debates about these issues are typically at the forefront of the discussions that revolve around gender politics, but it seems as though many people forget, or are simply unaware of, the fact that women are virtually invisible in positions of power almost entirely across the board.
Regardless of the fact that women make up 50.8 percent of the country's population and hold almost 52 percent of all professional-level jobs, ladies in the U.S. make up only 14.6 percent of executive officers, 8.1 percent of top earners, and 4.6 percent of Fortune 500 CEOs, according to the Center for American Progress.
No one seems to talk about the severe lack of females who have "CEO," "Project Manager," or "President of the United States" written on their business cards.
Although women like Hillary Clinton and Carly Fiorina may be fighting to get a hold of that last title, the other millions of women in America remain, for the most part, completely unseen in authoritative positions, even at levels much less significant than what The White House has to offer.
And, surprise, surprise, the buck doesn't stop there. Not only are women offered fewer promotions and higher-ranked positions in their careers, but recent studies have also shown that women entrepreneurs are not given the same opportunities as their male counterparts.
It was found that female entrepreneurs on ABC's hit show Shark Tank, where "contestants" are able to pitch their ideas for new products and businesses to a panel of investors, were not only backed by the investors less often than the men who appeared on the show, but they also received less money than their male competitors as well.
In fact, Rock Health founder and CEO Halle Tecco compiled data from the first seven seasons of Shark Tank and found that companies founded by men received an average valuation of almost $1.7 million while companies founded by women received an average valuation of just over $781,000.
Arianna Gordon, a senior health studies student, takes issue with the fact that women are not presented with equal opportunities. "I think it's ridiculous because women work just as hard and they're just as intelligent. It's not fair," Gordon said.
There always seems to be a lot of talk about the need to address gender inequality, but not enough action. "It's just a constant exercise of trying to pretend that women are being treated equally, but we're not," Gordon commented.
But Gordon isn't the only one upset by the lack of equality that women face in most aspects of their lives. Upon learning about the unfair treatment that women are exposed to in the business world, cosmetic and beauty retail chain Sephora started Accelerate, a brand new annual program "dedicated to building a community of innovative female founders in beauty," according to their official website.
Corrie Conrad, the Head of Social Impact at Sephora, said, "Even in the beauty industry, where most customers are women, female founders are still underrepresented."
She continued, "We see a unique opportunity to draw from our history of working with entrepreneurs to build a supportive community for early-stage female founders."
With that message in mind, Sephora's Accelerate program is set to begin in April with a "one week boot camp" where women looking to start their own beauty businesses learn what it takes to create and keep up with a successful company.
The rest of the program provides them with lessons from beauty mentors and seasoned entrepreneurs and will end with a final demo day at the end of August.
Luckily, Sephora isn't the only company making attempts to combat the uneven grounds that women with original ideas find themselves standing on.
Vimeo, a video sharing website, has created a new initiative called Share the Screen that they "hope will help close the gender gap that is so pervasive in the entertainment industry," according to their website.
The film and entertainment industry, much like just about every other industry, is almost completely dominated by men.
In 2014 alone, 85 percent of films had no female directors, 80 percent had no female writers, 33 percent had no female producers, 78 percent had no female editors, and 92 percent had no female cinematographers, according to the Center for the Study of Women in Television and Film at San Diego State University.
Contrary to the picture that those statistics paint, there are plenty of women who are not only incredibly interested, but also more than capable of working in the film industry, and Vimeo's Share the Screen initiative was created just for those women.
In the coming years, the company plans to "invest in female-led programming, educational workshops, meetups, interviews, and more that spotlight and support female voices in the Vimeo community."
Mary Harris, a Specialist Professor in the Communication Department, thinks that this initiative in particular is great because it forces people to face the issue of gender inequality. "It brings awareness to this type of issue," Harris explained. "And it's also a great public relations strategy for Vimeo."
Ashley Beneventine, a sophomore social work student, agrees, "I think programs like these are a great way to recognize a lot of girls who don't have outlets to turn to."
She continued, "They can take an everyday girl and give her the opportunity to not only find herself, but help others find themselves, too."
Hopefully in the near future, more companies will follow in the footsteps of both Sephora and Vimeo by creating programs and initiatives that will offer women more opportunities to fulfill their dreams.
Whether those dreams are to start a new line of cosmetics or to write and direct a new movie, women should have the same opportunities as their male counterparts when it comes to making those dreams a reality.
IMAGE TAKEN from uvc.org