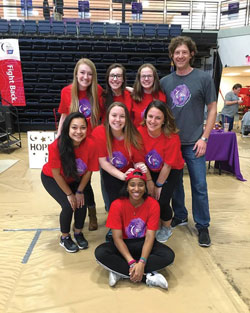 Students, faculty, friends, fighters, survivors, and loved ones filled the Multi-Purpose Activity Center (MAC) on Fri. April 1 for Monmouth University's Relay for Life. Monmouth University has been hosting an American Cancer Society sponsored campus-wide Relay for Life event, along with the help of the Colleges against Cancer club on campus, to help fight back and find a cure for cancer.
The American Cancer Society website claims that the Relay for Life movement is the world's largest and most impactful fundraising event to end cancer. It unites communities across the globe to celebrate people who have battled cancer, remember loved ones lost, and take action to finish the fight once and for all. The relay is an overnight event where participants "camp out", listen to music, visit fundraising tables, and take turns walking around the MAC track to raise funds to fight cancer. This year's theme was One World, One Hope, in honor of the national Relay for Life theme of Paint Your World Purple. The theme is to spread awareness of the available support and programs around the world from the ACS. The American Cancer Society's slogan is "Celebrate, Remember, and Fight Back."
In order to host a successful event, the details and planning of the event were not overnight. "Planning Relay for Life is a year-long process. It takes countless hours, numerous brainstorming and working sessions, and endless amounts of time and dedication from our Event Leadership Team and Executive Board. The planning process can be very tedious, but we push through because we know we are going to be the generation that ends cancer, once and for all," says Courtney Mottola, President of Colleges Against Cancer and junior education student. The event's CAC committee worked with Zach Sayre, an ACS staff partner, who helped provide resources that enabled the club to raise cancer awareness. Kathy Stein and LuAnn Russell, CAC's faculty advisors, also played a crucial part in the planning of this event. Stein said, "Relay for Life is such a great event for all involved. The students work extremely hard and the issue is a personal one to so many involved. I am proud to be a part of the Monmouth University Relay for Life and the Colleges Against Cancer Student Group is to be commended on a job well done.
"For the amount of work that goes into the event, the night of Relay for Life seems to come and go in the blink-of-an-eye. However, after having time to reflect on the event, I feel so incredibly grateful to all of the 934 participants, volunteers, staff members, faculty, administration, and committee members who helped raise and donate over $36,000 to The American Cancer Society," said Mottola. "The most impactful moment of the night was the open mic during the Fight Back ceremony. The people who decided to voluntarily come up and share their stories of hope were so brave and they are the reason that provides us with the strength to put together Relay for Life every year."
The night was jam-packed with various fundraising events, musical acts, and "themed laps" around the track. Blue Hawk Records Artists kicked off the show at 5 p.m. while all groups arrived to set up camp. Many Greek life organizations participate in relay, including Sigma Pi, which was the Top Fundraising Team of the night.
"We are immensely proud of the efforts that our organization and the University made towards fundraising and donations for the fight against cancer. Since most of us have been affected by cancer in one way or another, we saw it as a personal goal to help the fight. The event had an awesome turnout again and we truly are happy to have made an impact," said Mike Stigliano, President of Sigma Pi.
Each year, every Greek organization attends the event and helps out as much as possible by raising money and hosting an on-site fundraiser. This year, the ladies of Phi Sigma and Alpha Sigma Tau hosted a bake sale, while brothers of Sigma Tau Gamma hosted "Pie a Sig Tau". Members of Tau Kappa Epsilon hosted "Ballin' with TKE", where participants could shoot some hoops for the cause.
There were many activities throughout the night for participants. Meghan Wheeler, junior education student, sister of Alpha Omicron Pi, and cancer survivor, stated, "Relay for Life this year was breathtakingly beautiful. The support from so many organizations and people filled me with overwhelming joy. To be able to share my personal survivor story in front of so many people made me realize how truly blessed I am."
At 10 p.m. the Luminaria Ceremony lit up the track as those lost to cancer were remembered by a silent lap. The Fight Back Ceremony followed with volunteers sharing personal stories of their fight. Chris Doheney, a brother of TDP and senior homeland security student said, "As a survivor, Relay for Life is more than just a fundraising and awareness event. It is a time where I can reflect on my past and celebrate my triumphs, while spreading hope that there is life beyond cancer." After a rockin' singing and dance party, the night came to a close around 5 a.m. with the total money raised being $36,000 that will be put toward research, education, advocacy, and patient services to help end the fight against cancer.
Photo COURTESY of Kendal Adam